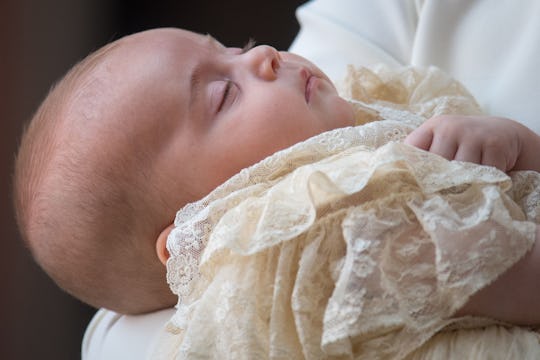 WPA Pool/Getty Images Entertainment/Getty Images
If You're Wondering When You'll See Prince Louis Again, Be Prepared To Wait
It's been about five minutes since Price Louis' christening, but the world is already craving another glimpse of the little royal. I mean, did you see those adorable cheeks and his itty bitty nose?! So much cuteness, so many questions. And as you might have heard, his parents are scheduled to appear at Wimbledon this weekend, so might that be the next appearance of Prince Louis?
It seems unlikely that the tennis tournament would be an outing of choice for the family to bring the baby. Though the royal family might be able to pull some strings if they really wanted to, babies in arms are technically not allowed into the show courts at Wimbledon, according to the tournament's website. Not to mention the fact that his adorable cheeks would steal the attention away from the hardworking athletes!
In fact, after a royal baby's christening, it seems there can be a bit of a lull until the public sees them again. Especially since their mother is usually taking some maternity leave, as the Duchess of Cambridge, Kate Middleton is right now, according to ABC News. Middleton is expected to take about six months leave, the news outlet reported, which began in April, so she could very well stay sequestered until around October and just enjoy the time to bond with her newborn.
But she hasn't quite been doing that. Not only is she showing up to Wimbledon alongside Meghan Markle for two matches this weekend, according to Newsweek, she was also recently seen at some royal events, like the 100th anniversary of the Royal Air Force, as Harper's Bazaar reported. And of course there was Prince Louis' christening and the royal wedding, which both got her out in public, but they were technically family events. Point is, she's not hiding.
But following the christening of Prince George about five years ago, it was almost six months until the public saw him again, according to The Telegraph. His christening was on Oct. 23, 2013 and he was next seen during his parent's official tour of New Zealand and Australia in April, The Telegraph noted. The next official event he attended — and his first in the U.K. — was when he was taken to the hospital to meet his new sister in May 2015, The Telegraph reported. According to the publication, his parents did release a family photo on his first birthday, but there were some long stretches when he was pretty much out of sight.
Princess Charlotte had a similar schedule. She was born May 2, 2015 and, after a brief appearance on the steps of the Lindo Wing was next seen at her christening in July, Town & Country reported. Besides a few royal family photos that were released, she wasn't seen again until a family ski trip in March 2016, and her first official public appearance was in her mother's arms during the Trooping the Color ceremony in June 2016, according to Town & Country. But boy, has she been a cutie ever since, constantly cracking up fans with her adorable waves and her trademark sass.
So if the family follows tradition, the world might see Prince Louis join his parents on an official visit or family vacation when he is about 6 months old, and then possibly another long lag until he's seen again. Which makes sense, considering all that is going on in an infant's life during that first year. Nobody wants to take a fussy, teething baby out in public with every camera in the world pointed your way.
Regardless, no matter how much the world wants to see the royal children and their adorable antics, they are just kids and it's their parents' prerogative to ultimately do what's in their best interest. We'll see more than enough of them over the years to come. Who knows what kind of modernizing will happen within the monarchy when this next generation gets hold of it. Until then, the world seems more than happy to keep an eye open for glimpses and wish the family well.