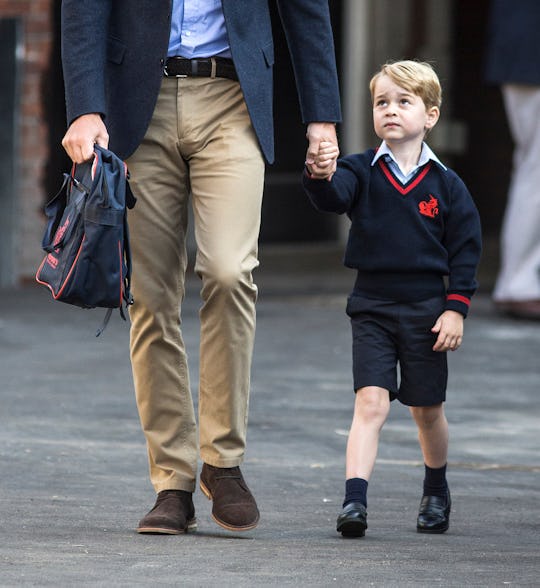 WPA Pool/Getty Images Entertainment/Getty Images
Prince William Is Teaching George This Simple, But Important Life-Saving Skill
Imagine being a little 4-year-old girl, finding out that you managed to impact the future King of England? That something you did inspired him so much that it might affect the way he parents his offspring? I mean, how do you improve on that? This was the case for Suzie McCash, a young girl who was receiving a 2017 Pride of Britain award on Monday night. Her story inspired Prince William to teach Prince George a vital life-saving skill, because her actions quite literally saved a life.
Suzie was receiving the prestigious Child of Courage award, according to The Mirror, and was lucky enough to meet Prince William at The Grovesnor Hotel in London during the event. She was the recipient of the award after calling 999 (Britain's emergency service number, like 911 for those across the pond) when her mother collapsed and stopped breathing. At the time, Suzie was just 4 years old — the same age as Prince William's son, George. When she met Prince William on Monday night, he crouched down in front of her and said, according to HuffPost:
I have a 4-year-old called George and if I gave him a telephone I do not know what he would do...
It is a scary thought for any parent, royal or otherwise, that your child could be in a precarious situation and not really have any idea what to do about it. And Prince William, whose family is always surrounded by security guards, was obviously no different from any other parent when he realized all that could possibly go wrong in an emergency. According to HuffPost, he told Suzie:
And do you know what? I'm going to have a conversation with my George about what to do because of what you've done. It's really important.
According to Kids Health, it's just as important to talk to children about what constitutes an emergency as it is to teach them how to dial the number. For instance, an emergency would be a parent collapsing, a fire in the house, or an attempted break-in. But their sister takes theirbfavorite toy and their mom isn't doing anything about it, that's obviously not an emergency. While it's a good idea to teach children how to call emergency responders at a young age, it's also important to let them know that calling for any reason other than an emergency is not OK.
In Suzie's case, it was definitely an emergency. Her mother, Rowena, collapsed from an allergic reaction, and Suzie calmly called emergency services to tell them that, "Mommy's eyes are closed," and that she had stopped talking, according to The Telegraph. Paramedics arrived on the scene and were reportedly able to revive her mother, and now Suzie is (rightfully) an inspiration to royalty.
Little Suzie wasn't the only person to impress the future King of England on Monday night: he presented three Pride of Britain awards. The Grenfell Firefighters, many of whom were first responders during the deadly Grenfell Towers fire in June, received the Emergency Services award, while the Grenfell community and Manchester medics were presented with special recognition awards.
Such is the life of a prince, I suppose, presenting awards and attending posh parties and such. But Prince William isn't just royalty; he is also a father to two children (George's little sister Charlotte is 2 years old) with one more on the way. And as a father, the rules of parenting clearly come first — and he's making sure his children are safe, informed, and responsible.
Watch Romper's new video series, Romper's Doula Diaries:
Check out the entire Romper's Doula Diaries series and other videos on Facebook and the Bustle app across Apple TV, Roku, and Amazon Fire TV.