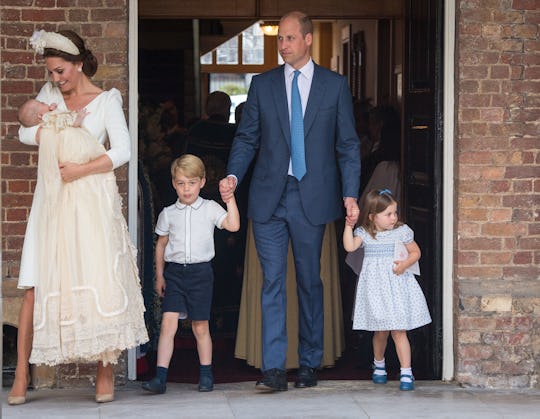 WPA Pool/Getty Images Entertainment/Getty Images
Why Prince William & Kate Middleton Reportedly Don't Have Full Custody Of Their Kids Is Bizarre
I've always been a big fans of Queen Elizabeth and I'll tell you why; as a woman who likes to be the boss of everyone and everything, I cannot help but bow down to the woman who really is the boss of everyone and everything. She isn't technically the ruler of Great Britain any more, I suppose, but she sure as hell is the ruler of the British royal family. Which I admire greatly... although some of her jobs feel a bit much. For instance, Prince William and Kate Middleton reportedly don't have custody of their kids, according to ELLE, because technically Queen Elizabeth is their custodial guardian. And honestly, ma'am? I think that's a little too far.
According to royal historian and expert Marlene Koenig, as reported by The Sun, Queen Elizabeth has custody of all minor royal children because of some 300-year-old royal law. Well, whoever might be the Sovereign at the time has custody, but since Queen Elizabeth is now the longest-reigning sovereign in British history, that means she has custody of a whole bunch of kids. And her brood continues to grow with each marriage.
As Koenig explained to News.com.au, the law dates back to the 18th century. "This goes back to King George I [who ruled in the early 1700s], and the law's never been changed," she told News.com.au. "He did it because he had a very poor relationship with his son, the future King George II, so they had this law passed that meant the King was the guardian of his grandchildren."
But here's the real question: if the royal kids get up in the middle of the night, does the Sovereign get up with them?
Probably not, I bet.
This law feels a little unfair, especially considering the fact that Queen Elizabeth doesn't seem to share in any of the parenting chores that the Duke and Duchess of Cambridge have. I mean, was it Queen Elizabeth bringing 5-year-old Prince George to school at Thomas's Battersea in London, as Harper's Bazaar revealed, reportedly mere hours after giving birth to Prince Louis in April? Nope, that was Kate Middleton. Was it Queen Elizabeth accidentally falling asleep with new parent exhaustion during Anzac Services in April? Nope, that was Prince William, just days after bringing Prince Louis home from the hospital,
While Koenig reportedly told News.com.au that palace officials don't want to make a "big deal" out of the Queen's role as custodial guardian, according to ELLE, the fact is that she gets to be a part of making decisions regarding the education, travel plans, and general upbringing of all royal minor children. And I thought it was a lot when she had a say in peoples' nail polish color...
Of course the three children of Prince William and Kate Middleton are not the only minor members of the royal family to reportedly be custodians of Queen Elizabeth. It's all children, which will presumably include the future children of Prince Harry and Meghan Markle, should they have them. And I have a feeling the Queen might get a touch of push back there; Markle is an American who was primarily raised by a single mother, after all, and has gone to the mat as a staunch feminist time and again in the past, according to The Independent. It's tough to imagine her relinquishing custody of her future children, even if that custody is primarily just a formality.
Things could conceivably change when Queen Elizabeth eventually steps aside as Sovereign and allows Prince Charles to take over; I mean, we're not friends or anything but I have a feeling he might be the kind of man who doesn't want custody of everyone's children forever. Maybe he'll see the light and change this odd, archaic law. Or maybe Meghan Markle will encourage that small change. I can totally see it.