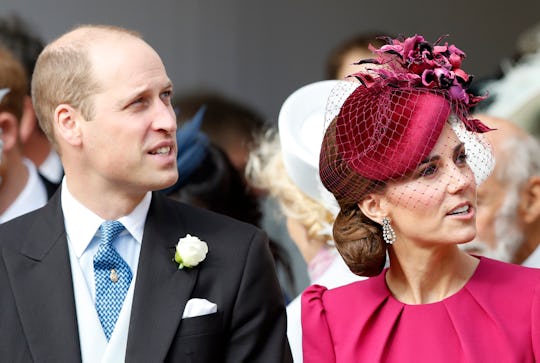 WPA Pool/Getty Images Entertainment/Getty Images
Prince William & Kate Middleton Were Quite A Pair At Princess Eugenie's Wedding
Ding dong! Yes, those are indeed wedding bells that you hear. Windsor Castle is hosting its second royal wedding of the year and this time, the bride is the Queen of the United Kingdom's granddaughter, Princess Eugenie. Her big day drew quite the guest list, and among the crowd at Princess Eugenie's wedding are Prince William and Kate Middleton. The ceremony marked Middleton's fourth official outing since returning from maternity leave, but the littlest prince, Louis, was not among the guests.
Prince William and Middleton attended Meghan Markle and Prince Harry's wedding a short five months ago, but were unable to sit next to each other. William was serving as his brother's best man at the time, leaving the Duchess on her own in the pews. This time around, William is not a part of the ceremony — but his and Kate's two eldest children are — leaving him free to cozy up next to his own bride and watch the show.
And cozy up to her he did. The Duke and Duchess made headlines when they opted for a rare moment of PDA early on in the ceremony. They snuck in a quick hand-hold, and while that doesn't sound like much, royal protocol makes gestures like this a private thing. But, according to Cosmopolitan, because Eugenie's wedding is technically a family event, they were able to get away with their *steamy* display.
Royal weddings come with a pretty strict dress code for guests, and the Duke and Duchess followed it to a T. Women attending Eugenie and Jack Brooksbank's wedding were asked to wear dresses and hats, while men were expected to be in a three-piece suit. Kate opted to wear a pink Alexander McQueen dress for Eugenie's ceremony, along with a Philip Treacy hat, black pumps, and a clutch purse, as Harper's Bazaar reported. Considering the Duchess' usually muted color palate, the bright pink dress was a bold choice for her. That, combined with her hand-holding with William, seems to suggest that Kate was feeling herself at the wedding — and I'm feeling it, too.
While Prince George and Princess Charlotte attended the wedding with the parents, the youngest member of their family did not. Prince Louis was notably absent from the festivities, but at just five months old, it's not all that surprising that his parents decided to leave him at home. Louis is in good hands though, and was being watched over by one of Kate and William's royal staff members while their regular nanny Maria Teresa looked after his older siblings, according to People.
Aside from their loving display of PDA and their two adorable members of the wedding party, William and Kate made headlines at Eugenie's wedding for another reason: they didn't sit in the front row. The three sections of St. George's Chapel are the left choir, the right choir, and the nave seating alongside the aisle. The choir is the most intimate seating section, and therefore reserved for family members. And while the Duke and Duchess of Cambridge, along with Prince Harry, Duke of Sussex, and Meghan Markle, Duchess of Sussex, were seated in the choir, they were in the second row because they aren't Eugenie's immediate family, according to Harper's Bazaar. The front row was instead occupied by Eugenie's mother, Sarah, Duchess of York, her father Prince Andrew, Duke of York, and her sister Princess Beatrice.
Of the 850 guests in the chapel and 1,200 more following the proceedings from the grounds, Prince William and Kate Middleton may have been the cutest couple in attendance — aside from the bride and groom, of course. It is great to see that after three children and countless royal engagements together the two of them are still unable to keep their hands off of one another. Talk about a happily ever after!