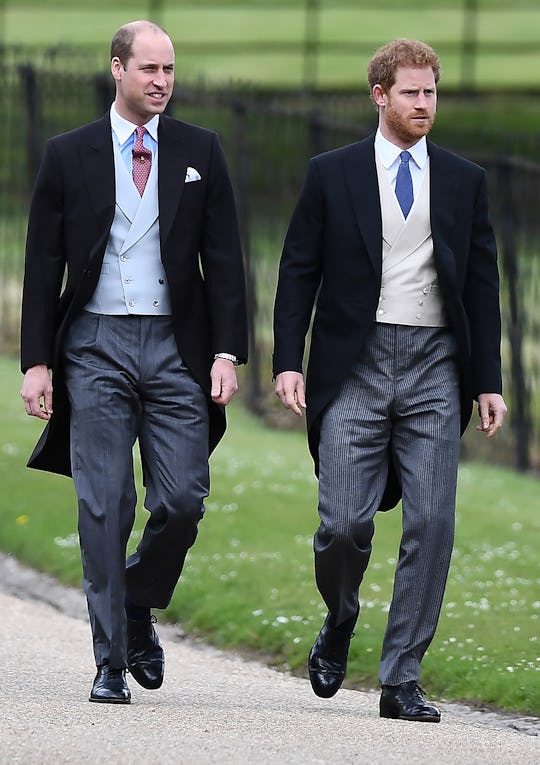 WPA Pool/Getty Images Entertainment/Getty Images
William & Harry's Tribute To Their Mom Is The Purest Thing Ever
Not to sound live everyone's grandmother here, but Prince Harry and Prince William seem to have grown up to be just about the nicest men. Both of them are serious about their charity work, not just donating money but investing themselves completely. And while they can take personal credit for some of their kindness, their mother deserves her due as well. And both men clearly agree. William and Harry's new documentary about their mom marks the first time the two have truly opened up about the mother they loved and lost far too soon.
Their mother, Princess Diana, was killed in a car accident at the age of 36 in 1997. Her sons, to whom she was obviously devoted, were 15 and 12 when she died. It was an awful period for both of them, to be sure, and few people will forget the sight of the two young princes walking behind their mother's casket in front of the entire world. Nobody would have necessarily blamed them if they simply broke down after that day, but William and Harry continue to do their mother proud. Diana was an avid humanitarian in life, advocating on behalf of AIDS patients, the homeless, sick children, and cancer treatment research.
Both of her sons have followed in their mother's footsteps, devoting themselves to charities that support mental health awareness (they co-founded the charity "Heads Together" with Princess Kate) and protecting vulnerable children around the globe.
Despite their intensely public lives, the two brothers have rarely spoken about their private relationship with their mother. As Harry noted in the promotional interview to support the upcoming HBO documentary, Diana: Our Mother, Her Life and Legacy:
This is the first time that the two of us have ever spoken about her as a mother.
William remembered:
She was very informal and really enjoyed the laughter and the fun. She understood that there was a real life outside of Palace walls.
Princess Diana was known for her obvious, open love for her sons at a time when that sort of overt affection was frowned upon within the palace walls. She was very hands-on, taking her sons along on holidays to places like Disney World and giving them lots of hugs and kisses in public.
As the 20th anniversary of her death nears, her sons are proving to the world that the time they had with their mother stays with them still. In the promo for their documentary, Harry called her the "naughtiest of mums," and went on to say:
She was our mum. She still is our mum. And of course, as a son I would say this, she was the best mum in the world. She smothered us with love, that's for sure.
And now I'm ugly crying.
She might have been gone from her boys too soon, but she did the absolute best with the short time she had. And it shows.
The documentary will appear later this month on HBO. Stock up on tissues.