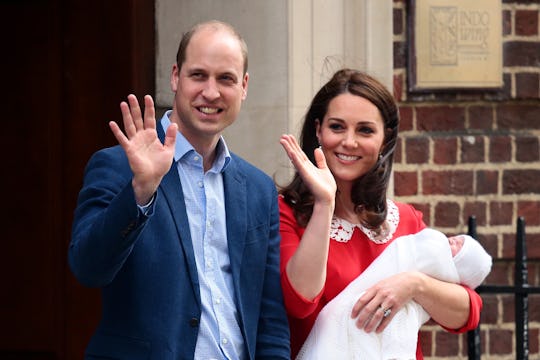 Jack Taylor/Getty Images Entertainment/Getty Images
Prince William Gave Up *This* Hobby When He Became A Dad Of Three
Prince William may one day inherit the British royal throne (an undoubtably big job), but at the end of the day, he's a dad to three young and adorable kids. After first entering the world of parenting in 2013, a lot has certainly changed for the royal. In fact, during a recent appearance on Wednesday, Prince William revealed how his life has changed since becoming a dad of three and it's so relatable for a lot of parents.
During an official royal engagement at Isle of the Man on Wednesday, according to Hello! Magazine, Prince William reflected on the activities he can no longer enjoy as much since he and Middleton welcomed their son, Prince Louis, into the world, adding a bit more responsibility and sleepless nights into the mix as well. Prince William revealed during this appearance that the one thing he had to give up after Prince Louis was born in April were the biking trips he used to take, according to Hello! Magazine. "I'm a father of three, I have to tone it down," Prince William said. "I miss the big trips, biking for me was just about being with everyone else."
Prince William isn't alone in that adjustment — becoming a parent often means having to give up certain things from life before kids. But it's a nice exchange that comes with more time spent with family. But forgoing biking trips was clearly something that was hard to part with for Prince William. But he doesn't seem to mind too much; his family is seriously so cute and he talks more about his family than he ever did of his biking trips.
In case you're wondering, Prince William wasn't talking about bicycles with pedals and all that — he was talking about motorcycles with revving engines and more. And this appearance on Wednesday isn't the first time that Prince William has talked about his love of biking before, or how it was one of the things he stopped doing once he became a parent. During an official royal engagement at Buckingham Palace in November last year, triple World Superbike Champion, Jonathan Rea told Hello! Magazine that he was aware that Prince William was a big fan of biking himself. "We talked about his bikes and the fact that he has put it on the back-burner a little bit because of his children now," Rea told the publication.
Some people might not know that Prince William was "an avid biker" before kids, according to Observer. But he actually owned several motorbikes with his brother, Prince Harry, and even participated in biking events for charity. He even arrived to one polo event on a motorbike in 2009, according to The Telegraph.
But while Prince William might have loved this hobby, his wife reportedly isn't the biggest fan of it. During an engagement in 2015, Middleton revealed that she wasn't happy when Prince Harry takes his motorbike out on the streets, according to Hello! Magazine. "It always fills me with horror when he goes out on it," Middleton told one well-wisher, the outlet reported.
But if biking makes Middleton terrified, then it's understandable why Prince William would give up the hobby for his family. Not only are relationships about compromise, but parents do give up quite a few things when they become parents, according to Baby Gaga, like sleep, spontaneity, and even some of their favorite hobbies, especially if it jeopardizes their safety.
Prince William might miss biking, but it's clear just how much he loves being a father, as evidenced by how highly he speaks of his family. During a 2016 BBC documentary, When Ant and Dec Met The Prince: 40 Years Of The Prince's Trust, Prince William said that becoming a parent had a huge impact on him, according to Harper's Bazaar. "I'm a lot more emotional than I used to be, weirdly," Prince William said. "[It's] just because you realize how precious life is and it puts it all in perspective," he added.
Although Prince William had to give up one hobby when he became a parent, he got three of the (arguably) cutest kids in England in exchange. That sounds pretty fair to me.