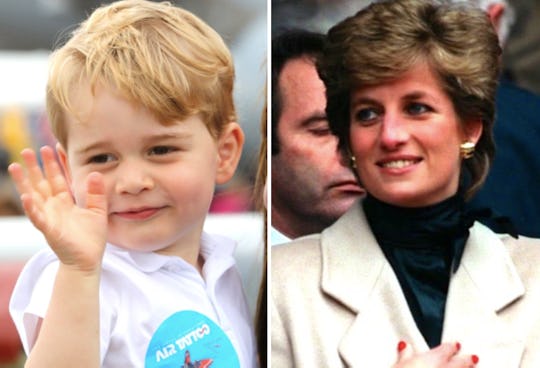 Chris Jackson/Getty Images Entertainment/Getty Images/ Pascal Rondeau/Getty Images Sport/Getty Images
Prince William Reveals Prince George's New Hobby Has A Sweet Connection To Princess Diana
Prince William, Duke of Cambridge, is a husband, a father-of-three, and a popular working senior royal set to one day inherit the British throne. But despite his very royal life, the prince has also endured a major tragedy — his mother, Diana, Princess of Wales, died in a car crash when he was still a teenager. That's meant that his children have never had the chance to know their grandmother, but during a recent royal appearance, Prince William revealed Prince George's new hobby has a sweet connection to Princess Diana, according to Hello! Magazine, and though it was a surprisingly candid admission from the usually-private royal, it also made it clear that her memory is still very much alive in his heart.
Though the royal spotlight may currently be on his younger brother, Prince Harry, Duke of Sussex, as he's midway through his first major overseas tour with his pregnant wife, Meghan, Duchess of Sussex, Prince William and Kate Middleton recently hosted a special event of their own at Kensington Palace to honor eight British teens named as finalists in for the Radio 1 Teen Heroes Awards.
According to the BBC, this year's reception was the third year in a row that the couple has honored the special teens shortlisted for the award, which recognizes their "outstanding dedication" to helping others. And while it sounds like all of the honorees had a great time meeting the royal couple, it was 14-year-old UK Freestyle Street Dance Champion, Junior Frood, who actually got the prince to open up about his family life.
Junior was one of the three teens who won the Teen Hero award, according to BBC News, thanks to the creation of his anti-bullying social media campaign, #BoysCanDance, which helps fight back against the gendered stereotype that dance lessons are a girls' activity. Through his own example, Frood is helping to encourage young men to get involves in the arts, and according to the British Citizen Youth Awards, he has also used his dancing talent to raise more than $350,000 for various British charities. And from the sounds of it, the Duke and Duchess of Cambridge could definitely appreciate his message: in a video shared on social media by Kensington Palace following the reception, Prince William could be seen telling Frood that, actually, his 5-year-old son, Prince George, also takes dance lessons, and that "he loves it."
In addition to simply being proud of his son though, the prince also revealed that George's affinity for dance happens to remind him of his late mother. In a video shared on Twitter by Kensington Palace, Prince William could be heard telling Frood, "My mother always used to dance, she loved dancing. And if it's something you love, you do what you love. Don't let anyone else tell you otherwise. Keep at it."
Though Prince George and his sister, Princess Charlotte, definitely seem to be involved in activities that are quite traditionally royal — the future heir reportedly went on his first grouse hunt in August, according to The Express, while 3-year-old Princess Charlotte is said to be taking private tennis lessons as a posh London country club — Prince George's dance lessons sound like one way in which the Cambridges are also embracing a more progressive upbringing for their kids. Earlier this year, Elle UK reported that the young royal was set to begin ballet lessons at his family-run private school, Thomas' Battersea, which is likely quite a departure from his father's own education at London's exclusive all-boys Wetherby School, or at the royal-loved boarding school, Eton College.
It wouldn't be the first time though, that the duke and duchess appeared to buck royal parenting trends. Prior to enrolling him at Thomas' Battersea, the couple chose to send their son to a Montessori pre-school near their country home in Norfolk, according to Vanity Fair. And, as Vanity Fair reported, at the co-ed Thomas' Battersea, which is apparently the preferred choice of "middle-class parents ... rather than aristocrats," the motto, surprisingly, is "be kind."
While ballet lessons may still be seen as an activity for girls, the fact that dancers like Frood are pushing back against those antiquated stereotypes means that it can also be something more young boys, like Prince George, can enjoy without being teased. Perhaps more importantly though, the fact that Prince William has spoken proudly of his son's love of dance publicly also helps to reinforce the idea that fathers can, and should, encourage their sons to take up ballet, or other activities long-thought incorrectly as being feminine.
Given that the prince doesn't often speak openly about his mother though, hearing him talk of the way his son appears to be following in his late grandmother's footsteps is seriously sweet. And although she may no longer be in their lives, it sounds like Princess Diana's legacy is still very much a part of their family.