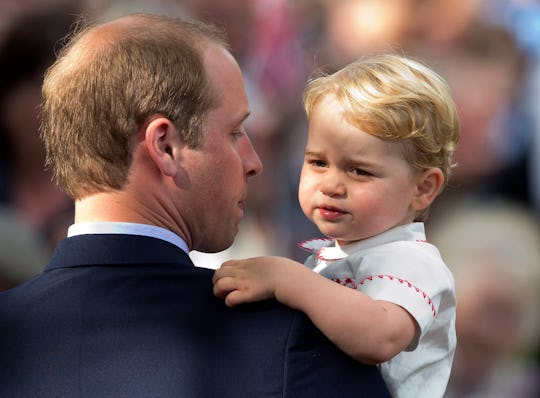 Prince William Says Fatherhood Has Made Him More Emotional, & Here's Why That's a Great Thing
In an ITV documentary about the Prince's Trust charity, set up by Prince Charles, Prince William spoke about fatherhood and how it has changed him. "I'm a lot more emotional than I used to be," he told interviewers in When Ant and Dec Met The Prince: 40 Years of the Prince's Trust, which aired Monday night. He also admitted that he's become much more affected by global events as a father. "Just because you realise how precious life is and it puts it all in perspective. The idea of not being around to see your children grow up and stuff like that."
After having Prince George, 2, and Princess Charlotte, 7 months old, the Duke of Cambridge said he noticed a change in how he reacted emotionally to major life events:
I never used to get too wound up or worried about things. But now the smallest little things, you well up a little more, you get affected by the sort of things that happen around the world.
It's definitely an experience that most parents can attest to — and when it comes to influential leaders like Prince William, it's a trait we often need more of in order to build a more peaceful world.
Numerous studies, experts, and journalists have pointed to a relationship between emotional intelligence and good leadership, but not everyone is born with an equally talent for empathizing with others. Though research on leadership and social intelligence is still young, a Forbes article challenged readers to list their top five leaders — and then pointed out, "I'll bet that everyone on your list reaches you on an emotional level." Harvard Business Review reported a link between highly principled leaders and high financial performance. Fast Company made a case for hiring employees with emotional intelligence, pointing out their leadership skills, connection to others, and ability to empathize and diffuse difficult situations.
It's one of the reasons women — and their purportedly "softer" or more maternal instincts — have traditionally been seen as unable to handle the workplace or serious business. But as it turns out, it's one of the best traits those in business can bring to the table. Feeling emotional about wars or displaced families in the news isn't a bad thing, it's a human thing — and if being a parent helps you empathize with the people behind the headlines, that's more likely than not a gift, not a weakness.
I'm all for a more emotional Prince William, a more emotional Mark Zuckerberg, and an influential person rendered more able to empathize with the plight of other human beings, whether through the birth of a child or otherwise. In a world that's currently facing a refugee crisis, terrorism, poverty, and countless other problems, a little emotion in our leadership can only lead to better things.
Image: Matt Dunham - WPA Pool/Getty Images