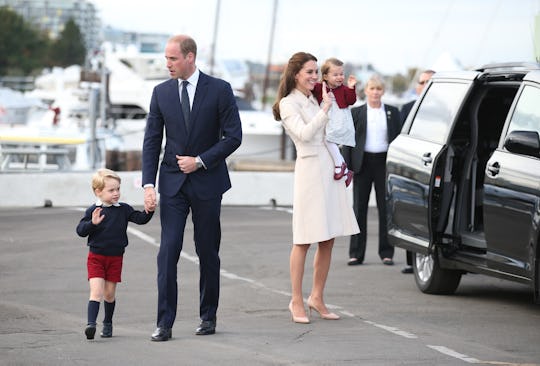 Pool/Getty Images Entertainment/Getty Images
Prince William Says His Kids Will Never Know Diana
To many people, Princess Diana's life and her tragic death in 1997 is a British royal family legend, something you read about in magazines. While the world will commemorate the 20th anniversary of her death this August, her family is still mourning their loss. In this month's issue of British GQ, Prince William said he's sad his children never met Diana, their grandmother, which is an all-too familiar feeling for anyone who's lost a family member. The 34-year-old told the magazine:
I would like to have had her advice. I would love her to have met Catherine and to have seen the children grow up. It makes me sad that she won't, that they will never know her.
William also said that he's in a better place since her death, which means that it's easier for him to talk openly about his mother. So although little Charlotte and George will never get to play with their grandmother, hopefully they'll be able to hear all of their father's stories about her. He added, "I can talk about her more openly, talk about her more honestly, and I can remember her better, and publicly talk about her better."
It's heartbreaking that William and his brother Harry not only had to cope with the loss of their mother at such a young age — William was 15 and Harry was 12 at the time of the car accident — but they had to mourn her in the public eye, with everyone watching their every move. William told GQ that sharing his grief with the world was difficult. He said:
It has taken me almost 20 years to get to that stage. I still find it difficult now because at the time it was so raw. And also it is not like most people's grief, because everyone else knows about it, everyone knows the story, everyone knows her.
Leading up to the anniversary of her death on Aug. 31, Prince William and his brother Harry have been working hard on their mental health campaign Heads Together. In order to raise awareness about mental health issues like depression, anxiety, and getting over the British stereotype of a stiff upper lip, the two men have been more open than ever before when it comes to their mother.
In April, William spoke to a group of students about the moment he heard his mother had died. "The shock is the biggest thing," he said to a woman at an event, empathizing with with her own loss. (Her infant son died of pneumonia and her husband committed suicide just days after.) William added that that feeling of shock doesn't go away easily. "People think shock can't last that long, but it does. It's such an unbelievably big moment in your life and it never leaves you, you just learn to deal with it," he said.
It's heartbreaking that William can't share his family with his mother. But at least he's in a better place now and can talk about her with his children as they grow up. And inspire other people who feel the same sort of grief to talk about it and know that it's completely normal. In that way, Princess Diana, who was interested in so many social issues, lives on.