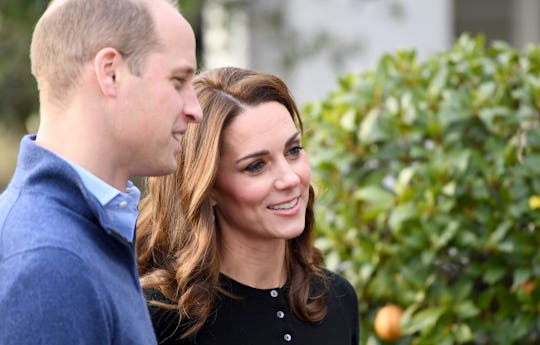 Stuart C. Wilson/Getty Images Entertainment/Getty Images
Prince William Cracked A Very Festive Dad Joke About Kate Middleton's Outfit
Some men are just born to be dads and husbands, mostly on account of the fact that they just love a good old dad joke. As charming as a solid dad sense of humor is in a regular guy, it is perhaps even more charming when it's the future King of England. I'm sorry to say this, but you know it's true. I challenge you not to be charmed by Prince William teasing Kate Middleton about her outfit, not because his joke is so hilarious but because he clearly has so much fun being a total goofball.
The Duke and Duchess of Cambridge were visiting a British military base in Cyprus on Wednesday when the famous parents of three were asked to pose for a photo op in front of a Christmas tree. Middleton looked stylish as ever in navy pants an olive green "Duchess" blazer by designer Smythe, but her husband couldn't stop himself from making a comparison. Not to style icons of the past, of course, but to the Christmas tree standing behind them as a backdrop.
After jokingly asking if the photographers wanted him out of the picture (maybe because he knows we are all in love with his wife), he pointed out "My wife is camouflaged against the tree." And his laughter at his own joke made everything funnier. Also it helps that Middleton seems to really appreciate his dad humor.
While the rest of us can't get a backstage pass to the private lives of the Cambridge family (more's the pity), you have to know that 5-year-old Prince George, 3-year-old Princess Charlotte, and 7-month-old Prince Louis are going to grow up in a house with lots of gentle teasing and laughter.
And not just from their dad either.
Kate Middleton seems to have a pretty solid sense of humor herself, especially when it comes to ribbing her husband a little. During the couple's visit to Cyprus, they helped open the Oasis recreation center for military families with a huge Christmas party. As People reported, Prince William apparently spotted the nice yellow couches in the center and teased the military men that they better "keep the pizzas off the sofa!" Because all this dad wants is to be a regular dude, I think.
Fortunately, he's married to a woman who gets him and is willing to play along. Middleton said, "You're a nightmare with that!" And I guarantee you Prince William thought she was the dreamiest wife ever.
There is something seriously appealing about Prince William and Kate Middleton. I think it's their ease with each other, maybe because they've been together for more than a decade or something. But considering how much time they spend in the public eye, they seem to still get a real kick out of each other. I suspect it's a combination of their shared love of their children, their country, and a super cheesy dad joke every now and again.
They're a match made in heaven, guys. And I won't listen to anyone who tells me different.
This first-time mom wants to have a home birth, but is she ready? Watch how a doula supports a military mom who's determined to have a home birth in Episode One of Romper's Doula Diaries, Season Two, below. Visit Bustle Digital Group's YouTube page for the next three episodes, launching Mondays in December.