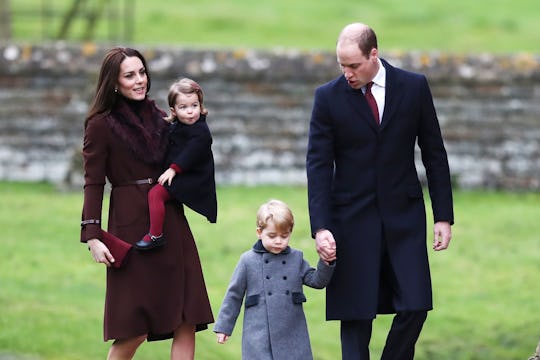 WPA Pool/Getty Images News/Getty Images
Prince William Thinks He'll Be A "Popular Dad" With The Royal Kids For This Sweet Reason
Sometimes I feel sort of bad for Prince William, if you can believe it. As the future King of England, he seems to exist on a slightly different plane from the rest of his family. Prince Harry gives the impression of being rather fun and affable, Meghan Markle is all sparkly and new; even his own wife Kate Middleton looks more relaxed than Prince William. Which must suck sometimes, being expected to always be the responsible and maybe even boring one. Well, good news. Prince William is going to be a "popular" dad at the palace tonight, apparently, and I bet he's really pumped about it.
Prince William was at the University of Birmingham on Tuesday on an official solo visit as part of his royal duties, according to People. While some of his royal duties are probably a little boring and don't always include a sweet goody bag, this was not the case here. Sketch artist Julian Kiely from the Lapworth Museum of Geology created some pretty incredible hardcover coloring books for the Duke of Cambridge to bring home to his kids, according to People. Two each, in fact, for his older two children, 5-year-old Prince George and 3-year-old Princess Charlotte. I guess 5-month-old baby Prince Louis isn't quite ready for these gorgeous coloring books filled with beautifully sketched whales, dinosaurs, and fossils.
For those of you who might not already be aware, Prince George in particular is apparently a huge fan of dinosaurs, according to Hello! Magazine, much like most other kids his age. In fact, his dad admitted on Tuesday in a separate visit to Acorns Hospice center in Birmingham that young George is "obsessed" with them, according to Town and Country: "George is obsessed with dinosaurs so we're learning all about them."
So you can understand why Prince William was enthusiastic about bringing home a present his kids might actually be really pumped to receive. Sir David Eastwood, vice-chancellor of the University of Birmingham, told People that the Duke of Cambridge was excited to bring the books home to his children for a pretty understandable reason; they might make him popular with Prince George and Princess Charlotte. "He said 'I'll be the most popular father in the country tonight,'" the royal dad said.
I mean, who doesn't want to be popular with their kids, right? Although I strongly suspect Prince William is a pretty adored father... just look at the way Prince George hugs him.
And now look at the way Prince William gazes with total adoration at his daughter, Princess Charlotte.
The father-of-three has obviously made parenting a huge priority in his life, implementing rules about his children's privacy that are quite progressive for the royal family. Perhaps because he struggled so much in the spotlight himself as a young boy. When it was time for Prince George to start school at Thomas's Battersea in London, the Duke and Duchess of Cambridge allowed a select few photographers to capture the moment, according to USA Today. He took his son to school himself, a ritual he and his wife share between them for both of their older kids, carrying George's backpack for him and looking like the most natural dad in the world.
As lovely as I'm sure those coloring books are, they are not really the thing that makes Prince William a popular dad with his kids. The fact that he knows them so well, loves them, protects them, and honestly seems to adore everything about them? That's the thing that makes him the most popular dad with the royal kids.
Although if he really wants to make sure his stock continues to rise, ice cream never fails to help make a parent popular. Trust me.