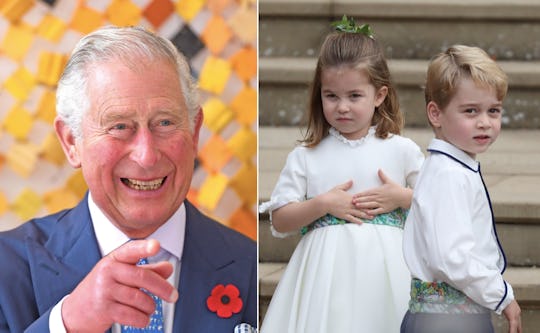 WPA Pool/Getty Images Entertainment/Getty Images/ WPA Pool/Getty Images Entertainment/Getty Images
Prince William Shared His Thoughts On How Much Time Prince Charles Spends With His Kids
Prince Charles has a lot on his plate. He is next in line to sit on the throne after his mother, Queen Elizabeth II. He has royal engagements almost constantly. And he has a big milestone birthday coming up: Prince Charles turns 70 on Nov. 14. But is that a good enough reason to not spend loads of time with your grandkids? Absolutely not, and his oldest son, Prince William, is rather gently calling him out for it. In a new documentary, Prince William reveals that he wants his dad to spend more time with his kids — Prince George, Princess Charlotte, and Prince Louis — and who could blame him?
Now before we all go jumping to conclusions and thinking Prince Charles is an uncaring oaf, that doesn't appear to be the issue at all. As Prince William noted in a new documentary celebrating his father's 70th birthday, according to People, Prince, Son and Heir: Charles at 70, the future king is apparently wonderful with his three grandchildren: 5-year-old Prince George, 3-year-old Princess Charlotte, and 5-month-old Prince Louis. So "brilliant," in fact, that Prince William would like him to take time to slow down a little and hang out with them more.
As the Duke of Cambridge noted in the BBC documentary that aired Thursday, "It's something I'm working more heavily on, put it that way. I think he does have time for it, but I would like him to have more time with the children."
The Duke of Cambridge, who always strikes me as one of those dads who just adores his kids, according to Cosmopolitan, went on to say in the documentary:
Having more time with him at home would be lovely, and being able to you know play around with the grandchildren. When he's there, he's brilliant, but we need him there as much as possible.
Prince William is absolutely right to encourage his father to spend more time with his grandchildren for several reasons. First of all, Prince William's mother Princess Diana died 21 years ago in a terrible car accident, meaning the little royals were left without a grandmother who would have presumably adored them.
While they have their grandmother Carole Middleton on their mother Kate Middleton's side and they also have Prince Charles' wife Camilla Parker Bowles, Prince William must still feel that loss for his children. And as Prince William hinted, it sounds like he wants Prince Charles to step it up to help fill that void.
There's also the fact that another grandchild will soon join the fold. Prince Harry and Meghan Markle are expecting their first child in the spring, so maybe it's time for Prince Charles to slip a little deeper into grandparent mode.
To be fair here, it doesn't seem as though Prince Charles would mind seeing a little more of his grandchildren. They certainly appeared to be top of mind to him during a recent visit to Ghana where he was discussing climate change... and the world he hopes to leave behind for his grandchildren, According to Town & Country, he recently said:
I am about to have another grandchild actually. I suspect quite a few of you may too have grandchildren or will do soon. It does seem to me insanity if we are going to bequeath this completely polluted, damaged and destroyed world to them.
This looks to be a case of a man who is simply overworked and needs a reminder to slow down and enjoy life. Prince Charles is lucky to have a son who sees this and isn't afraid to point it out. Not just for the sake of his children, but for his father's sake as well.