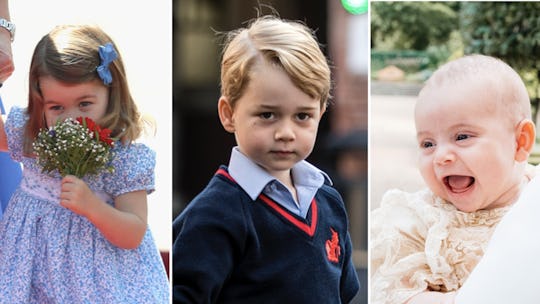 WPA Pool/Getty Images Entertainment/Getty Images/ Chris Jackson/Getty Images Entertainment/Getty Images/ Handout/Getty Images Entertainment/Getty Images
This Children's Book Is A "Hit" With Prince George, Princess Charlotte & Prince Louis
Do you want to raise your kids a bit more like Prince William and Kate Middleton? (That's a rhetorical question... who doesn't?) Those who follow the royal fam can easily replicate everything from their adorable outfits to their choice of extracurricular activities (FYI, Prince George is reportedly taking ballet classes, and Princess Charlotte is reportedly following in her grandmother's footsteps with a love of horseback riding). And now, you can even copy a part of their evening routines. According to Prince William, a certain children's book is a "hit" with the royal kids at bedtime, and it might be one you already have on your shelves.
While attending an animal rights fundraiser at the home of children's book author Julia Donaldson and illustrator Axel Scheffler, HELLO! Magazine reported that Prince William observed a series of rhinos they decorated in their front yard to raise awareness about the crucial threat of extinction the animal currently faces.
When Prince William saw the statues, he reportedly commented that Prince George loves rhinos, and that their book, The Gruffalo, is a "big hit" in their home, according to HELLO! Magazine. "It's amazing, I love it. You can tell it's you guys. It's the eyes [of the animals] I think, you can always tell the eyes." The dad of three went on to joke that it was a good thing his eldest son, Prince George, wasn't present, because otherwise he'd be trying to take one of the rhinos home, as HELLO! Magazine reported.
If you're not familiar with The Gruffalo, one of the royal kids' favorite books tells the story of a small mouse who ventures into the woods and uses its wit to deter potential danger from a series of different, scary animals. (Parents can purchase the book on the authors' website, as well as on Amazon.)
However, evening books are not the only part of the royal family's routine to recently made headlines. With Prince George now in school (not to mention the chaos of having another baby in the house), Harper's Bazaar U.K. reported that the family will be sure that Prince George takes 10 minutes each evening to do his homework and reading assignments, but before he settles in for that, he will attend after school dance classes.
Prince George's activity of choice, according to InStyle, is actually ballet lessons, which is significant not at least for the fact that it is defies gender norms, which is certainly not typical for a family known for upholding conservative values and traditions. Prince George will reportedly take ballet as well as swimming lessons, according to Harper's Bazaar.
But that's not the only super sweet thing the royal kids are up to. Town & Country reported that, much like her grandmother, Princess Charlotte is very into horseback riding. The Queen, as many know, has been a lifelong equestrian. At an event for Olympians and Paralympians at Buckingham Palace, Natasha Baker, a Paralympic Equestrian, told Town & Country that Duchess Kate opened up to her about Princess Charlotte's love of the sport.
"I asked her how the children were, and she said Charlotte is really enjoying her riding which is great to hear," Natasha shared about their conversation, according to The Mirror. "She emphasized that Charlotte has this passion for horses and although she doesn't echo it, she'll do her best to champion and encourage it."
It seems that the royal family is just like anyone else trying to adjust to all the demands of three little kids and a new school year. It's encouraging to see that they are setting a great example for others in prioritizing reading, and of course, saving the rhinos.