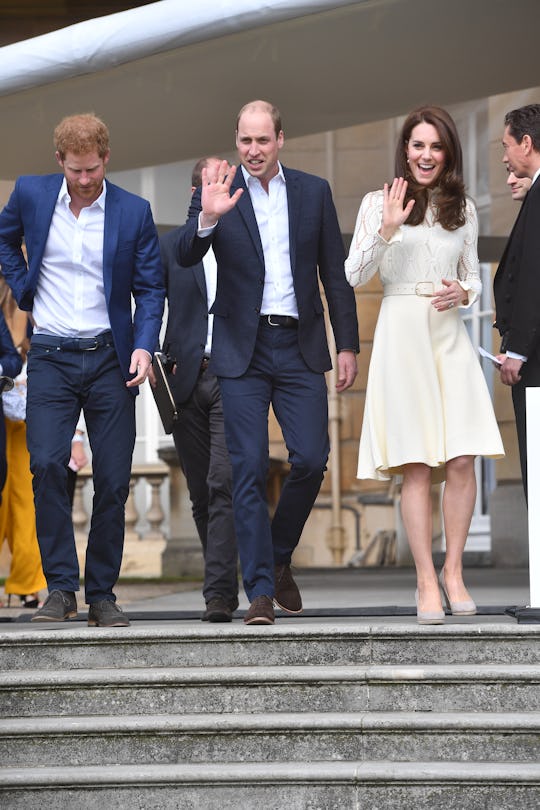 WPA Pool/Getty Images Entertainment/Getty Images
Royal Family Hosts Kids' Party At Palace
Say what you will about the young royal family (actually don't, I can't handle it), but they are trying to make a difference in the world. They are young, and wealthy, and beautiful. They could be throwing parties the likes of which we've never known. And yet. Princes William and Harry, plus Princess Kate, hosted a kid's party at Buckingham palace on Saturday. And their reason would have made their late mother, Princess Diana, enormously proud. I'm sure of it.
The royals welcomed children whose parents lost their lives while in service to the armed forces. Buckingham Palace released a statement about the event:
Their Royal Highnesses have arranged the event as a way to acknowledge and honor the fact that a number of young children have had to come to terms with the loss of someone very close to them at a young age. The Duke and Duchess and Prince Harry hope the event will provide an opportunity for these children to broaden their support networks amongst other families with similar experiences.
Of course, Princes William and Harry know all too well about losing a parent; their mother, Princess Diana, died in a tragic car accident in Paris in 1997. She was just 36-years-old when she died. The princes were 15 and 13 when they lost their mother, and Prince Harry in particular has been vocal about how his loss greatly affected him.
At Saturday's party on the grounds of Buckingham Gardens, Prince Harry welcomed the children with a moving speech:
Today was organized to celebrate you guys. We're here to remind you that we as a family, and as a nation will never, ever forget the sacrifices that all of you here have made. We wanted to give you an opportunity to know that you are part of, sadly, a very large group of fantastic people. The three of us, and all of our family, wanted to thank you so, so much for everything you've done.
There were games for the children (even Princess Kate managed to try her hand at a giant slingshot), food, beatboxing, breakdancing, and lots of laughter. But that didn't mean the three royals weren't taking things seriously; there were several organizations on hand equipped to deal with childhood bereavement. One of which, Child Bereavement UK, has Prince William himself as its patron.
2017 marks the 20th anniversary of their mother's death. And, as William noted during a surprisingly open interview in the BBC documentary Mind Over Marathon in April, he has never truly recovered from that loss.
The shock is the biggest thing. I still feel, 20 years later about my mother, I still have shock within me . . . People say shock can't last that long, but it does. You never get over it. It's such an unbelievably big moment in your life that it never leaves you, you just learn to deal with it.
These two remarkable men, along with Princess Kate, have learned to deal with it in the best way possible. They honor their mother by consistently helping others with their charity work and empathy.
How proud she would be.