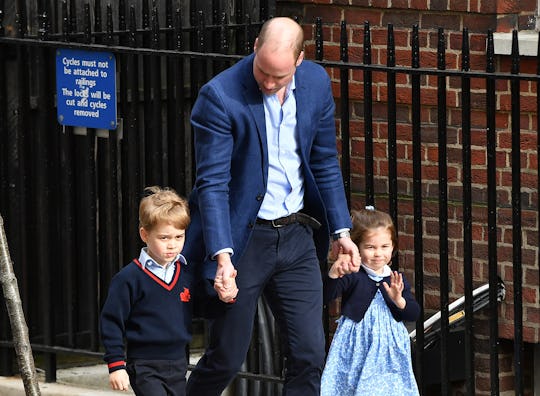 Gareth Cattermole/Getty Images Entertainment/Getty Images
Princess Charlotte Apparently Loves To Play Hostess To Palace Guests
There's just something about that Princess Charlotte that charms everyone, even those of us who have never met her and most likely never will. The 3-year-old daughter of Prince William and Kate Middleton has often been referred to as spunky or challenging or, once by her own great-grandmother Queen Elizabeth, "bossy." But that doesn't mean she's not a little sweetheart, of course. Apparently Princess Charlotte loves to play hostess when people visit Kensington Palace, and this warms the cockles of my heart.
Royal watchers the world over have probably enjoyed a good laugh over some of Princess Charlotte's antics in public. First of all, that kid loves to wave at her adoring fans like nobody's business. Unlike her 5-year-old brother Prince George,w ho just looks like he wishes everyone would go home and let him enjoy his life in the palace. Princess Charlotte might not love all the press surrounding them, but she does enjoy perfecting the royal wave. Even when she was a tiny bridesmaid at her uncle Prince Harry's May wedding to Meghan Markle, where thousands of onlookers were screaming with joy from the sidelines, Princess Charlotte took a moment to wave at her fans. A wave that was not unlike her great grandmother's wave, which is pretty impressive.
Here she is learning the tricks of the trade from the Queen herself.
On the flip side of that coin, Princess Charlotte also took a moment at the royal wedding to stick her tongue out at photographers.
Princess Charlotte isn't just a fan of sticking out her tongue and the royal wave, of course (let's face it, those two hobbies wouldn't take up that much time after all). A palace insider told Us Weekly recently that the young princess is a big fan of playing hostess to guests at her home in Kensington Palace, apartment 1A.
She'll come up to guests and ask them if they want tea or coffee or offer them sweets — so adorable!
The palace insider also noted that both the Duke and Duchess of Cambridge really make an effort to ensure their children (including new baby Prince Louis who is just five months old) live as normal a life as possible. And honestly, I can totally remember offering refreshments to people who came over to our house as a kid, whether they liked them or not. I bet plenty of kids did the same thing... which I suppose means her parents are doing plenty of things right.
One other way Princess Charlotte reminds me of so many other little girls her age? Not only does she love hosting people, but she also seems to be super loving to her new baby brother. I mean, just look at the way she looks at him in this portrait from his christening.
Still, no kid should ever be expected to be a little sweetheart all the time. A little spice is needed every now and then, and Princess Charlotte doesn't mind getting a bit spicy. Like when she told photographers at her baby brother's July 10 christening that they were "not coming" into the church, according to Harper's Bazaar. You know, just in case they got the wrong idea.
That's Princess Charlotte for you. Actually, that's sort of most kids who are given free reign to be true to themselves for you, in my opinion. A little sweet and a little spicy. One day she's telling off photographers and sticking out her tongue, the next she's kindly offering refreshments to guests. Princess Charlotte might be a bit of a handful, sure, but she's definitely never boring.