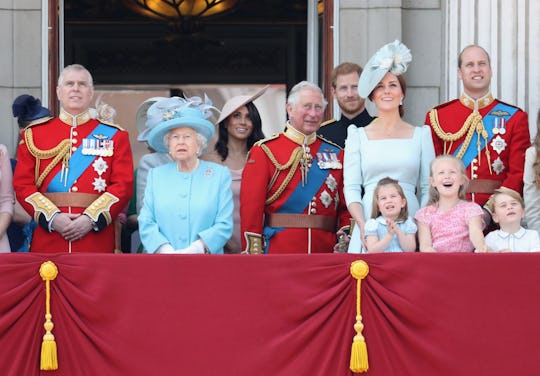 Chris Jackson/Getty Images News/Getty Images
You Have To See How Princess Charlotte Adorably Copied The Queen's Iconic Wave
At just 3 years old, Princess Charlotte is really still only a royal-in-training. But based on her recent public appearances, she has a pretty good handle on things. It might hereditary, or it might be because she has fantastic people to learn from, like her dad, Prince William (who is second in line to become to the throne) and her great-grandmother, Queen Elizabeth II. You can tell that Princess Charlotte takes her royal training very seriously, as evidenced by recent footage of Princess Charlotte totally copying the queen's wave during the Trooping The Color this past weekend.
When the royal family gathered on the balcony of Buckingham Palace for the first time since Prince Harry and Meghan Markle's wedding last month, it was quite the site to see. Not only were royal watchers excited to see Prince Harry and Markle, who recently returned home from their reported honeymoon, according to People, they were also excited to see the most adorable members of the royal family: the kids.
If you looked closely toward the end of the ceremony, when the royal family was all gathered on the balcony, you might have noticed that Princess Charlotte was learning a thing or two from her grandmother. At one point, as you can see below, Princess Charlotte looked over to her grandmother waving to the crowd, stopped everything she was doing, and did the exact same thing that the queen did, as reported by People.
If you missed this happen live, you can still witness this whole super sweet moment on video at the 4:45 time stamp. And let me tell you, it's adorable.
As you can see, Princess Charlotte's mom, Kate Middleton, took note of the super adorable moment, according to People, telling her husband and the queen about Princess Charlotte's little wave. In the video, you can see that both Prince William and the queen seem to be quite amused by this little gesture. Just look at the queen's face after Middleton leans in to talk to her. Judging by their reactions, it seems like Princess Charlotte not only has fans outside of the royal family, but plenty on the inside as well.
But it's not like Princess Charlotte needs someone to teach her how to wave; based on her previous public appearances, it's clear that the little girl has waving down pat.
For example, Princess Charlotte showed off her royal wave in late April, when her father took her and her older brother, 4-year-old Prince George, to meet their youngest brother, Prince Louis, right after he was born. As they walked into the hospital, Princess Charlotte showed that she was "a master" of the royal wave, according to Town & Country.
One month later at Prince Harry and Markle's wedding, Princess Charlotte proved yet again that she's an expert at the "royal wave," reportedly "stealing the show," according to E! News. But waving was't the only thing that she was good at during the royal wedding; Princess Charlotte also showed that she was quite the leader (just like her great grandmother), according to Town & Country, as she reportedly took charge of the bridal party.
This isn't the first time when Princess Charlotte has exhibited similar traits to her great grandmother. Comparing photos of the pairs, it's clear to see that Princess Charlotte looks very similar to the queen when she was a child. Really, it's hard to deny that Princess Charlotte takes after her great-grandmother in many ways.
Although it's unlikely that Princess Charlotte will ever follow directly in the queen's footsteps (she's fourth in line to the royal throne, according to CNN), it's clear that she is already taking plenty of royal cues from her great-grandmother.