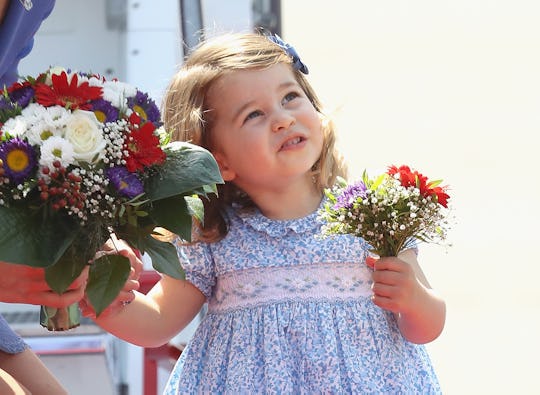 Chris Jackson/Getty Images Entertainment/Getty Images
Princess Charlotte Has Changed Royal History Now That She's Welcomed A Baby Brother
The Royal Duchess of Cambridge Kate Middleton and her husband Prince William welcomed their third baby, a son, into the world on Monday morning. This means that their daughter is not only now a middle child (a big and a little sister), but that young Princess Charlotte has changed royal history in welcoming her baby brother. Why? Because for the first time ever in the history of the Crown of England, a newborn baby prince can not usurp his older sister in the line of succession, according to People.
This is all thanks to the Succession to the Crown Act 2013, which states, "In determining the succession to the Crown, the gender of a person born after 28 October 2011 does not give that person, or that person's descendants, precedence over any other person (whenever born)."
Or, in plainer English: girls are officially no longer less important than boys when it comes to who wears the crown.
Before the Crown Act, the 1701 Succession Act stated that brothers would always come before their sisters when it came to who was first in line to the throne, as reported by The Sun. So, though the new baby boy does in fact bump his uncle, Prince Harry, down the line from fifth to sixth place, Princess Charlotte remains fourth in line for the throne, after her grandpa Prince Charles, dad Prince William, and big brother Prince George.
Hello, 21st Century!
It's more than a little mind-boggling that it took until 2013 for an act like that to be passed, but maybe it didn't seem urgent until Prince William and Kate Middleton got married... after all, Elizabeth II has been the Queen since 1952. She is in fact the longest-reigning monarch in British history, according to Biography.com, celebrating 65 years on the throne with her Sapphire Jubilee in February 2017.
Now, as for that throne, there had been a lot of speculation that Elizabeth's son and Charlotte's grandpa, Prince Charles (aka The Prince of Wales) would in fact abdicate his right to the crown and step aside so that it would pass from Queen Elizabeth (long may she reign) directly to Charlotte's dad, Prince William. However, just last week, at a meeting of the Commonwealth Heads of Government at Buckingham Palace, it was announced that the Prince of Wales will indeed succeed the queen as head of the Commonwealth, according to the BBC.
"It is my sincere wish that the Commonwealth will continue to offer stability and continuity for future generations and will decide that one day the Prince of Wales should carry on the important work started by my father in 1949," the queen said on Thursday during the formal opening of the meeting, as reported by People.
Meanwhile, little Charlotte, who turns 3 years old next month, is going to be a busy little girl no matter how many people she has ahead (or behind!) her in line for the crown. First up, of course, will be meeting her little brother!
And then next month on May 19 will be the next royal wedding, when Meghan Markle and Charlotte's Uncle Harry will tie the royal knot at St. George's Chapel at Windsor Castle. According to Vanity Fair, Charlotte and her big brother will most likely be "front and center" for the festivities.
Just as he did for his aunt Pippa Middleton's nuptials with financier James Matthews, George is expected to be a page boy, and Charlotte will be a bridesmaid — aka "flower girl" for us Americans —, according to ABC News.
As anyone who has even been a flower girl or a big sister can attest, these are darn big jobs, to be taken very seriously. Flower girl duties come and go, but being a sibling is a lifetime role, and it's thrilling to know Princess Charlotte's brothers are never going to feel like they're any more important than their sister. As it should be!
Check out Romper's new video series, Bearing The Motherload, where disagreeing parents from different sides of an issue sit down with a mediator and talk about how to support (and not judge) each other's parenting perspectives. New episodes air Mondays on Facebook.