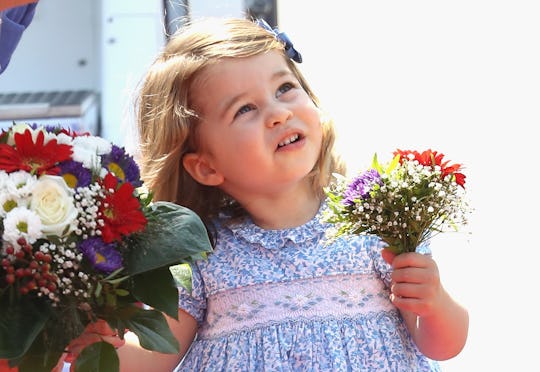 Chris Jackson/Getty Images Entertainment/Getty Images
Here's How To Dress Your Own Royal Baby Like Everyone's Favorite Princess
Diana, Princess of Wales, was known as The People's Princess. While terribly missed, it seems there's a new royal enjoying that title, too, and she's not even old enough to spell it. Princess Charlotte, Princess Diana's granddaughter, is becoming a crowd favorite, and it's not just because she's great at waving and has a cheeky disposition. People truly love her style (which is really more of her mom Catherine, Duchess of Cambridge's style), and are on the hunt for Princess Charlotte inspired clothes. I can't say I blame them. I mean, what's cuter than pleating, cardigans, tiny socks with Mary Janes, and smocking?
Charlotte definitely has a classic look about her, and the good thing is, those timeless pieces never go out of style. When my own daughter Alice was a baby, I filled her closet with sweet little cardigans, cable-knit tights, and perfectly smocked dresses, knowing that if I ever had another little girl, they would all get used again. Now that I am pregnant with our second daughter, I can't wait to continue our love for versatile, classic pieces and create matching outfits for both of our girls. I mean, one baby in a smocked, floral dress with a cardigan is cute enough, but two? My heart can't take it.
So if you're looking for some Princess Charlotte inspired clothes, here are some in the same style and vein as the littlest princess, but with your "commoner" budget in mind. You're welcome.