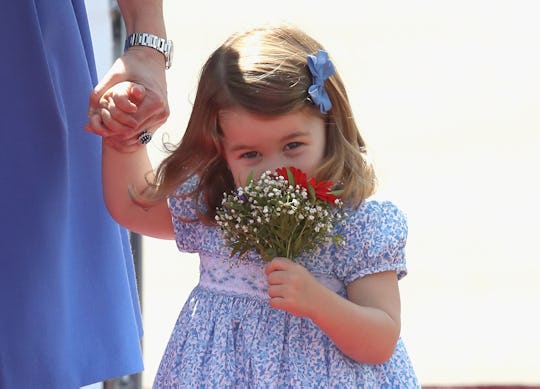 Chris Jackson/Getty Images Entertainment/Getty Images
Princess Charlotte's Reaction To Being A Big Sister Will Make You So Emotional
When introducing an additional child to the family, some parents worry about older siblings regressing, or feeling jealous of the new baby. But that doesn't seem to be a concern for the British royal family, because Princess Charlotte loves her new role as big sister, according to Us Weekly. "Charlotte is really enjoying having a younger brother to play with," a source told the magazine, referring to Prince Louis, who was born on April 23. "She's taking her big sister duties very seriously. She won't leave baby Louis' side."
And even with a new baby in the house, the family still made time to celebrate the princess' birthday just a week later, on May 2. Her grandfather, Prince Charles, flew in from Scotland for the occasion, according to Royal Central, and Us reported that she and her classmates at Willcocks Nursery School were treated to a surprise birthday cake before she headed home to continue the festivities with her family. The magazine's source shared that she's taking on the protective role her older brother, Prince George, has modeled for her, which is plain to see from the first family photos released by Kensington Palace over the weekend, which were taken by their mum, Duchess Catherine.
The first photo shows Louis sleeping peacefully in his big sister's lap, propped up by pillows as she sweetly kisses his forehead. And there are a couple more adorable details to the photo that some might have missed: according to TODAY, Charlotte wore the same blue cardigan that her older brother wore in a 2016 portrait of Queen Elizabeth and her great-grandchildren. That photo was taken by Annie Leibovitz in honor of the Queen's 90th birthday. Meanwhile, Louis donned the same outfit that his sister wore three years ago when George and Charlotte posed for a similar portrait, also taken by their mother. If she wasn't so busy with those kids, she might have a photography career on her hands!
Going from being the baby of the family to the middle child might be a hard adjustment for some kids, but it seems that Charlotte's taking it in stride. And while some claim that middle children get the psychological shaft — one "human behaviour expert" told the Daily Express that the little princess might suffer from "confusion and a need to prove [her] worth" — study after study has shown that birth order has no effect on personality, according to the Guardian (and middle children around the world).
Besides, she's got little reason to resent Louis. The family has retained the services of Maria Borrallo, a top-tier nanny, since George was a baby, so there's still a healthy 1:1 ratio of grownups to kids in the house... I mean palace. And unlike Charlotte's great-aunt, otherwise known as Anne, Princess Royal, her royal role isn't being diminished by the birth of her younger brother. Charles was always first in line for the throne after his mother, but Anne, the queen's second child, was second only for about nine and a half years, until her little brother, Prince Andrew, was born. Four years later, along came Prince Edward, knocking her down to fourth place. Then, of course, Charles had his own heirs, effectively ruining any shot Anne had at one day ruling the United Kingdom.
But ahead of her first grandchild's birth, Elizabeth finally decided to make things fair — well, as fair as they can be under a monarchy — with the Succession to the Crown Act of 2013. This act changed the rules of royal succession, abolishing "male preference primogeniture," meaning that in this family, birth order actually does count for something. Charlotte will always be ahead of Louis in line for the throne, although she's probably not all that concerned about it right now. She's just an adorable toddler who couldn't be more delighted with her new baby brother.