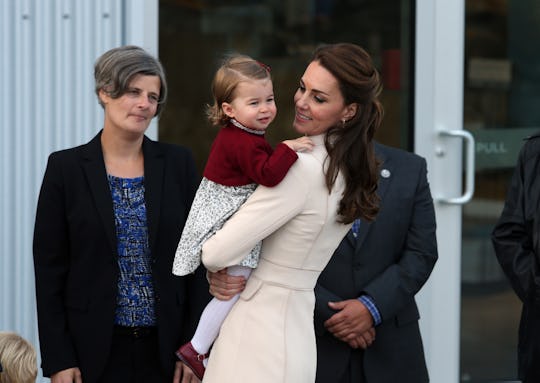 Pool/Getty Images Entertainment/Getty Images
Princess Charlotte Is Already Vying For The Crown
Kate Middleton has somehow managed to get even more internet famous since becoming mother to Prince George and Princess Charlotte, if that even seems possible. The future Queen of England is just so down to earth with her adorable kids, and so hands-on, that she sort of seems like a regular mom... who just happens to sometimes live in a palace. Middleton provided further evidence of her regular mom-ness when she recently admitted that Princess Charlotte rules the royal household, and her older brother Prince George in particular.
According to a report by People, Middleton was commiserating with fellow mom Samantha Burge (wife of warrant officer Chris Burge) at a recent unveiling of a war memorial. Burge has two children close in age to 4-year-old George and nearly 2-year-old Charlotte, and the two moms were discussing their children when Middleton confided that Charlotte "rules the roost":
She said that Charlotte is growing up really fast. She is the one in charge. We have both got 2-year-olds and they are ruling the roost. It was a bit of a mummy chat.
Charlotte might be in charge of brother George, but Middleton reportedly told Burge that the two children are close anyway. "[She said] they are both becoming really good friends, George and Charlotte," Burge recounted.
For anyone who saw Charlotte during the royal family's week-long visit to Canada last fall, news of her independent streak should come as no surprise. During a special reception for military families in Victoria, British Columbia at Government House, Charlotte was racing around the grounds, popping balloons and shouting "Pop! Pop!" It should be noted that brother George was rumored to have squirted her with a clown fish bubble gun, so he's got some spirit in him as well.
The royal munchkins have not been out in the public eye since Christmas, and were not in attendance at the event on Thursday to watch Queen Elizabeth unveil a war monument honoring veterans who have served their country. Middleton was there with husband Prince William and brother-in-law Prince Harry, just returned from Jamaica where he attended a wedding with girlfriend, actress Meghan Markle.
It's great that Princess Charlotte is setting the precedent of ruling the roost early on. After all, George could very well be the King of England some day, and she will need to make sure her brother doesn't get too big for his britches.