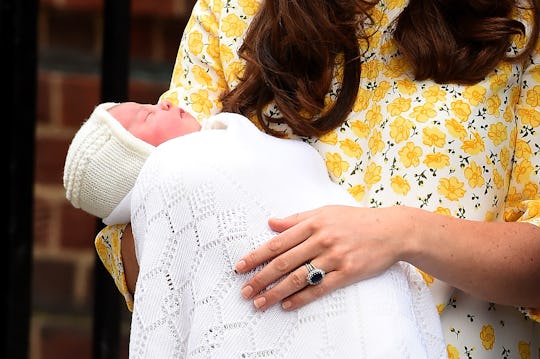 Ian Gavan/Getty Images Entertainment/Getty Images
Princess Charlotte's Birth Story Will Take You On A Royal Trip Down Memory Lane
Well, April is finally here and that means Royal Baby Watch 2018 is officially underway. Although a specific date wasn't mentioned in September's pregnancy announcement from Kensington Palace, it was revealed that the Duchess of Cambridge is due sometime in April. To pass the time, people across the world are making bets on the sex of the newest royal baby, speculating on what his/her name might be, and re-visiting the timelines of Kate Middleton's previous labors and deliveries. And if the duchess' prior experiences are any indication of what's to come, it should be a relatively smooth process. That's because Princess Charlotte's birth story basically proves Kate Middleton is a badass birthing goddess.
Chances are, the time from when Middleton arrives at the hospital to when the new royal baby is introduced to the world will be relatively short. For Princess Charlotte's birth, palace staff members were informed that it was "go time" at about 5 a.m. on May 2, 2015, as People reported at the time. About an hour later, Middleton was led by Prince William into St. Mary's hospital in London. Middleton delivered her first daughter in a private wing of St. Mary's. Charlotte Elizabeth Diana was born just two and a half hours later, weighing in at 8 pounds, 3 ounces, according to People.
By her side through the entire process was Prince William, of course, as well as a familiar medical team, as People reported. The two medical professionals who assisted the laboring mom were midwife Arona Ahmed and Professor of Midwifery at Imperial College Healthcare NHS Trust, Jacqui Dunkley-Bent. Apparently, the duchess had formed a bond with the pair during Prince George's birth in 2013 — and she wanted them by her side again for baby number two. A source told Us Weekly that Middleton's delivery went "remarkably well" with no complications, and that the speed of the princess' arrival "was a surprise to all." The delivery was natural and without an epidural, the publication reported.
For a few hours after welcoming their little princess, Prince William and Kate Middleton reveled in some quality, private family time. (As they should.) Before notifying the press, though, they personally called the queen to inform her of her great-granddaughter's birth. The next step involved a tradition during which one of Middleton's doctors signs a piece of paper announcing the royal baby's birth, CNN reported. This document is then police-escorted to Buckingham Palace, where it is displayed on a golden easel.
Just 10 hours after giving birth, Kate Middleton stepped outside of St. Mary's hospital with Prince William to introduce Princess Charlotte to the world, People reported. And I don't know how it's possible to look that put-together after pushing a human out of you, but once again, Middleton managed to pull it off. (I'm guessing it had something to do with the fact that her hairdresser was at the hospital, too.) And can you believe Middleton wound up leaving the hospital less than 12 hours after Princess Charlotte's birth? This woman really must be some sort of child-birthing goddess.
It seems as if Middleton's third pregnancy has followed a similar path as her first two. This is evident by the fact that Middleton has once again suffered from hyperemesis gravidarum — a severe form of "morning sickness" that required hospitalization during her first pregnancy, according to Forbes. Kensington Palace even revealed this fact in its official pregnancy announcement back in September.
With this logic, it's tempting to predict that Middleton's third delivery will also play out as smoothly as her first two. (Prince George's birth was "straightforward and there were no complications," according to E! News.) But alas, that's the tricky part of labor and delivery: Birth plans don't always go, well, as planned. I wish Middleton the best as she these final days/weeks of pregnancy tick away.
Check out Romper's new video series, Bearing The Motherload, where disagreeing parents from different sides of an issue sit down with a mediator and talk about how to support (and not judge) each other's parenting perspectives. New episodes air Mondays on Facebook.