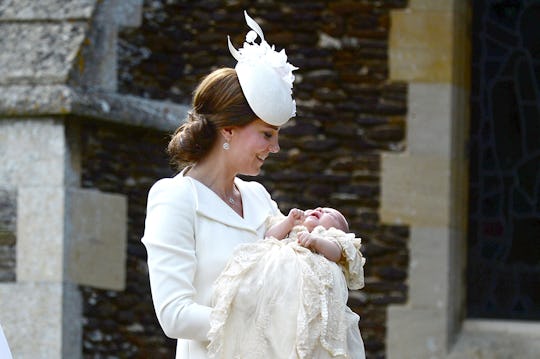 WPA Pool/Getty Images Entertainment/Getty Images
Princess Charlotte's First Public Appearance *Could* Give Us A Clue As To When We'll See Prince Louis Next
The entire world watched on April 23, 2018 when the Duke and Duchess of Cambridge, Kate Middleton and Prince William, presented their newest baby, Prince Louis, to the world on the steps of the Lindo Wing of St. Mary's Hospital. Since then, however, they've kept him close to home, only taking him and older sister Princess Charlotte out for a brief stroll in nearby Kensington Gardens. The couple doesn't plan on bringing him along to his uncle's royal wedding on May 19, 2018, either. But Princess Charlotte's first public appearance could give us royal watchers an idea of when we'll see Prince Louis next.
Middleton and Prince William have kept both of their older children home for two to three months before taking them out in public. According to Kid's Health, keeping your newborn away from crowded public places can help keep them healthy until they are older and capable of being vaccinated. However, in the case of Princess Charlotte, keeping the newborn home was also a family tradition, going back generations. According to Southern Living, a royal baby's first official public appearance has typically been their christening.
As Southern Living reports, like big brother Prince George, Princess Charlotte of Cambridge made her first appearance on the steps of St. Mary's Hospital, just hours after her birth. According to Good Housekeeping, Grandparents Charles, Prince of Wales, and Diana, Princess of Wales, started this tradition when Prince William was born in 1982. Before that, royal children were typically born at home, and their first appearance in the public would be at their christening.
As Vogue UK reports, thousands of people lined the streets on July 5, 2015, to watch Middleton push Princess Charlotte in a pram to the Church of St. Mary Magdalene in Sandringham for her christening more than two months after she was born. This was the same church where her late-grandmother, Princess Diana of Wales, was christened in 1961, and her first official public appearance.
This wasn't the only family tradition Middleton and Prince Charles observed for her first public outing. For the occasion, Princess Charlotte wore the same christening gown that her big brother Prince George wore for his christening. According to Southern Living, this gown was a replica of the gown worn by 62 previous royal babies, going back to Queen Victoria's oldest daughter Victoria, Princess Royal, born in 1841.
As Good Housekeeping reports, the Archbishop of Canterbury performed Princess Charlotte's christening as a the highest ranking cleric in the Church of England. He also performed Prince George's christening in 2013, and will perform Prince Louis's on a future date to be determined later this summer.
According to Kid's Health, this royal practice of keeping babies close to home for their first couple of months might actually be good for their health. While there are no official rules as to when you should leave the house with your newborn, experts advise new parents to avoid taking their babies to crowded public places until they are old enough to receive vaccinations. So Middleton's plans to leave Prince Louis home for his uncle Prince Harry's marriage to Meghan Markle is probably a great plan.
Kidshealth.org does note that it is totally OK to take your baby outside for some fresh air. Vanity Fair reported that Middleton did just that with baby Prince Louis and 3-year-old Princess Charlotte on May 14, 2018. She kept her two youngest relatively close to home, with a stroll through nearby Kensington Gardens.
According to Metro UK, Middleton took four months of maternity leave after Princess Charlotte was born, which allowed her to ease back into royal duties and keep her kids close to home. Husband Prince Charles took two weeks of paid paternity leave to help at home, before returning to work. Middleton plans to take a similar amount of leave with baby number three, and plans to return to official duties in the fall.