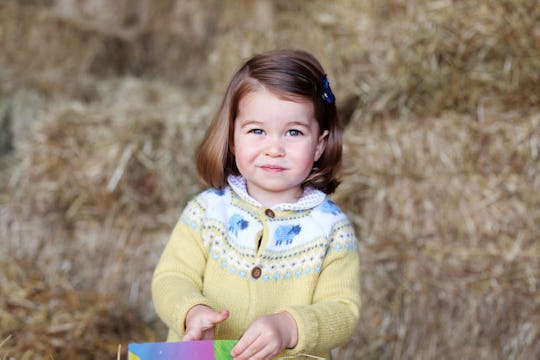 Handout/Getty Images Entertainment/Getty Images
Princess Charlotte's Latest Obsession Is Proof She's Going To Be A Fashion Icon
Considering Princess Charlotte comes from a long line of very stylish women, it's no surprise that she is already in love with fashion. Prince William, Duke of Cambridge recently opened up about Princess Charlotte's most recent obsession — and it's clear that she is going to follow in the footsteps of her very fashionable mother, grandmother, and great-grandmother.
In a visit to the International Business Festival in Liverpool on Tuesday, Prince William met with Keith and Gail Hanshaw of The Leather Satchel Co., who gifted Prince William monogrammed bags for each of his children, the Liverpool Echo reported. Looking at the bag created for his daughter, Prince William reportedly told the Hanshaws: "Charlotte will be obsessed with that — I'll never be able to get it off her," the Liverpool Echo reported.
Liverpool Echo reporter Alistair Houghton tweeted a video of William receiving the gift. "That's very very kind. Fantastic," he said upon seeing the monogrammed bags. "They're very cool." He kindly introduced himself to the Hanshaws, making conversation with them and thanking them for the gifts.
Houghton also tweeted a video interview with the Hanshaws. "He was quite surprised. He seemed really genuinely pleased with the bags, and loved the quality of them," Keith said in the video. "He said he'd probably never get the bag off Charlotte because she loves pink, and we kind of knew that as well."
Fittingly, the bags the Hanshaws created for the royal children are called the Mini Windsors. Windsor is the name of the royal family's house, so these bags were truly the perfect gift. Gail told the Liverpool Echo: "The bag is called a Mini-Windsor, before all this came about. So we produced three bags for the children — Mini Windsors for the mini-Windsors."
The bags can all be found on The Leather Satchel Co.'s website, and the three colors given to Prince George, Princess Charlotte, and Prince Louis are actually named after the royal kiddos. The Mini Windsor Leather Backpack in "Charlotte" Styling is light pink with darker pink straps, the Mini Windsor Leather Backpack in "George" Styling is dark blue with red straps (Keith told the Liverpool Echo that those are George's school colors), and the Mini Windsor Leather Backpack in "Louis" Styling is tan with dark brown straps ("classic London tan," Keith said). Each bag retails for £150 (about $199 USD), and there's an additional fee of £10 (about $13 USD) for monogramming.
This is not the first time Princess Charlotte has made headlines for her passion for fashion. Almost every time the 3-year-old steps out, fans go wild over her outfits, with many of them selling out online. For example, there's the floral light blue dress Princess Charlotte wore when going to meet her baby brother at the hospital after his birth in April. The dress, made by Little Miss Alice, sold out on the company's website after eagle-eyed fans figured out where it came from, Hello! reported.
Additionally, fans fell in love with the yellow cardigan Princess Charlotte wore in a photoshoot for her second birthday. The Baby Luxury Sheep Cardigan, made by designer John Lewis, originally sold for around $23 before it sold out, Moneyish reported.
Princess Charlotte also has an affinity for vintage fashion as well. Last July, the little princess was spotted wearing the same pair of red Mary Jane shoes that her uncle Prince Harry wore as a child in 1986, ABC News reported.
Not to mention, in photos taken by Catherine, Duchess of Cambridge, on Princess Charlotte's first day of preschool earlier this year, the toddler topped off her adorable outfit with a pink-strapped, polka-dotted bag. But who knows — perhaps when she returns to preschool in the fall, she'll be ready to make a new fashion statement with her Mini Windsor backpack.