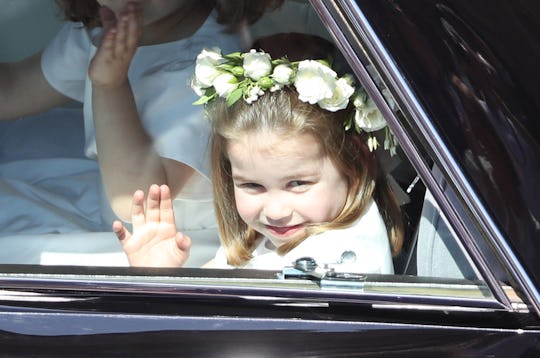 WPA Pool/Getty Images Entertainment/Getty Images
Three-Year-Old Princess Charlotte Already Has A Higher Net Worth Than Both Of Her Brothers
Growing up as the younger sister of the heir to the British throne might seem like a bit of a bummer — especially when you also have an adorable baby brother who has recently come along to steal your thunder. But in her three short years on this planet, Princess Charlotte has already proved that she's got major star power. British valuation and strategy consultancy firm Brand Finance Group has estimated that Princess Charlotte's net worth is $4.3 billion, according to INSIDER, making her more influential than both of her brothers. That might seem surprising, given that Prince George will one day become Britain's king. But the firm found that, like her impossibly poised and regal mother, Catherine, the Duchess of Cambridge, Princess Charlotte is already making an impact on fashion, as pretty much everything she wears becomes instantly popular.
In the same way that Kate Middleton's engagement to Prince William led to the rise of the "Kate effect" (remember the way that her navy blue Issa dress sold out basically immediately?), Princess Charlotte's May 2015 birth quickly made the "Charlotte effect" a thing. In fact, British company G.H. Hurt & Sons said their website received over 100,000 visits the day the princess was born, according to TIME, simply because the infant was photographed wrapped in one of their white shawls when she made her public debut on the steps of the Lindo Wing for the first time.
Of course, Prince George and Prince Louis both still have an impressive projected net worth — the Duke and Duchess' first son is thought to be worth about $3.2 billion, while their third child is expected to "add about $67 million to the UK economy before his first birthday," according to INSIDER. And, for the most part, Brand Finance explained that the difference in Princess Charlotte's financial worth compared to her brothers mainly comes down to the fact that the women's fashion market is so much bigger than the men's. But let's be honest: any royal watcher who has even slightly been paying attention will tell you that cheeky and charming Princess Charlotte is already a total scene-stealer, easily winning everyone's hearts whenever she makes a public appearance.
Though the Duke and Duchess generally aim to keep their children's lives private when they aren't tagging along with their parents on official royal duties, photos of the princess on her first day of nursery school shared by Kensington Palace were pretty solid proof that the youngster was already more than comfortable in front of the camera. And when she and Prince George arrived at St. Mary's Hospital in April with their father to meet their newborn brother for the first time? She effortlessly charmed the crowd of fans and photographers (not to mention practically all of social media), with her unbelievably cute over-the-shoulder wave.
That appearance pretty much solidified Princess Charlotte as a queen after all — in our hearts at least, if not in real life. But in case there were any lingering doubts, she put them all to rest by showing up at the May 19 wedding of her uncle Prince Harry to Meghan Markle (now the Duchess of Sussex, thank you very much), looking as adorable as can be in her Givenchy bridesmaid dress and monogrammed white leather Aquazurra shoes, waving, sticking her tongue out at photographers, and basically proving to the world that she was born for this, OK?
Of course, as much as Princess Charlotte may be a 3-year-old like no other, part of the fact that she seems so confident and well-adjusted despite being a public figure is likely influenced by her parents' desire to maintain as much normalcy in their children's decidedly unnormal life as possible. Though the family's primary residence is now the swanky 20-room Apartment 1A at Kensington Palace, according to The Week, the duchess recently wrote in an open letter for Children's Hospice Week that spending quality time together is a big priority for the family, according to Hello!, adding, "for me, as a mother, it is the simple family moments like playing outside together that I cherish."
Growing up royal may not always been as glamorous as it seems, and growing up as the middle child when your big bro will one day be king might eventually prove to be a bit of a struggle for Princess Charlotte. But given her young age, it's already pretty remarkable that she's been able to handle public life so well. And it's really no surprise that she's already projected to have such impressive earning potential.