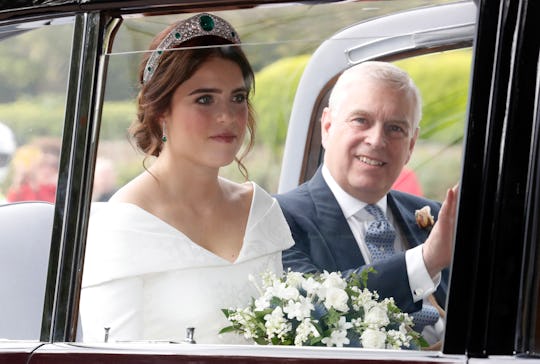 Chris Jackson/Getty Images Entertainment/Getty Images
Princess Eugenie Borrowed The Most Gorgeous Tiara To Wear On Her Wedding Day
It was the burning question on everyone's mind regarding Princess Eugenie's wedding look. The defining "will she or won't she" moment we were all waiting for when the youngest daughter of Prince Andrew, Duke of York and Sarah, Duchess of York walked down the aisle at St. George's Chapel at Windsor Castle on Friday. And now we know the answer. Yes, Virginia, Princess Eugenie did wear a tiara on her wedding day, now that she's finally able to. And it was pretty spectacular.
There was rabid speculation about whether or not the 28-year-old princess would decide to wear a tiara on her wedding day. As reported by Harper's Bazaar, royal etiquette dictates that only married women in the family may wear a tiara, so she wasn't able to wear one until now. And if ever a girl needed an excuse to get married, finally being allowed to wear a tiara is definitely high up on the list. Not that Princess Eugenie seemed to need jewelry to get her to walk down the aisle to Jack Brooksbank; she is obviously very much in love with her partner of the past seven years.
But a tiara must have sweetened the pot a little, right?
Many media outlets predicted that Princess Eugenie would wear the York tiara, which was gifted to her mother when she married the Duke of York in 1986 by the Queen of the United Kingdom and Prince Phillip, Duke of Edinburgh. Sarah Ferguson initially hid the tiara from royal watchers under a coronet of flowers, only revealing it after she was officially married to Prince Andrew, the younger brother of Prince Charles.
However, it looks like Princess Eugenie decided against it. When she walked down the aisle on the arm of her father, Prince Andrew, Princess Eugenie wore one of Queen Elizabeth's tiaras, the famed Greville emerald tiara, which is a pretty impressive bit of "something borrowed." And let's get real here; those emeralds with Princess Eugenie's newly red hair? Probably the most gorgeous thing I've seen in ages.
While wearing her mother's tiara would have been lovely, there's something sort of precious about Princess Eugenie's choice to wear a tiara of her grandmother's. She and Queen Elizabeth are reportedly very close, often seen together at official royal outings despite the fact that Princess Eugenie is not an official working member of the royal family. What a lovely way to pay tribute to their special relationship.
This particular tiara was made in 1921 by jeweler Boucheron, and the emerald in the center alone weighs an impressive 93.70 carats, as the Daily Express reported. No wonder Princess Eugenie eschewed that whole veil thing; her poor neck probably wouldn't have been able to stand the weight.
Now that Princess Eugenie is a married member of the royal family, she's allowed to dust off the old tiara whenever she likes. Which means we may still get the chance to see her wear her mother's York tiara. She could maybe even wear it with jeans to be a real rebel. That would be something.