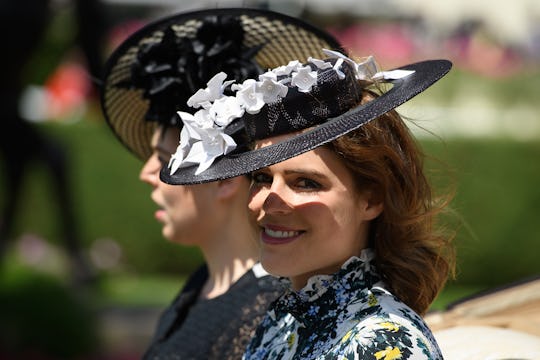 Leon Neal/Getty Images Entertainment/Getty Images
Why Princess Eugenie's Royal Wedding Vows Prove She's A Total Feminist
The British royal family has a history for honoring tradition — for staying the course and being slightly resistant to change. Especially when it comes to royal weddings; I mean, they were all eating the same dusty fruitcake for wedding cake until Prince Harry married Meghan Markle in May, for pete's sake. And yet there are some royals who are politely, but firmly, turning their noses up at some antiquated traditions. For instance, Princess Eugenie's royal wedding vows to Jack Brooksbank will omit one pivotal word, which sort of proves that she's the feminist I suspected she was all along.
Princess Eugenie, who is the youngest daughter of Prince Andrew and Sarah "Fergie" Ferguson (formerly the Duchess of York), is marrying wine merchant Jack Brooksbank on Friday at St. George's Chapel in Windsor Castle, according to The Telegraph. The setting will look familiar to those of us who watched Prince Harry marry Meghan Markle, as will much of the guest list. And at least one portion of the ceremony will sound familiar as well.
Just as Markle did not promise to "obey" her husband Prince Harry, neither will Princess Eugenie promise to "obey Jack" Brooksbank in her wedding vows, as People reported, citing to the official Order of Service shared on the royal family's Twitter page.
How was this ever a thing? I've never heard of anything less romantic than promising to obey. And yet, women who are married in the Church of England have been using the word "obey" in their wedding vows for centuries. TIME reported that the Queen of England herself, Elizabeth II, vowed to "love, honor, and obey" her husband Prince Phillip when the two were married in 1947. If watching both seasons of The Crown has taught me anything, this is not all that surprising.
Things have changed since 1947. Most women are not comfortable promising to do something they have no intention of doing on their wedding day. Like obeying their husband. And Princess Eugenie and Meghan Markle are by no means the first royal bride to eschew this archaic promise to obey their husbands in their wedding vows.
The Daily Mail reported that when Kate Middleton married Prince William in 2011 she vowed to "love, comfort, honor, and keep" her husband.
Those words were taken right from Prince William's own parents ceremony; when Princess Diana married Prince Charles in 1981, she became the first royal bride to ditch that whole obedient nonsense, as PopSugar noted.
Interestingly, however, Princess Eugenie's own mother, Sarah Ferguson, did actually say she would obey her husband in her vows, according to Express — a full five years after Princess Diana chose not to do so. Good Housekeeping noted that Ferguson, who by all accounts is a woman who knows her own mind, reportedly turned to her husband and gave him a little wink when she said it. Which is pretty adorable.
Princess Eugenie strikes me as a true feminist. She and Brooksbank have been together for seven years, according to People, and she didn't let their romance stop her from moving to New York City to work for a few years. Princess Eugenie also seems to carve her own path in the royal family by working outside the family and living her own life.
This princess was clearly never going to "obey" any guy. And I doubt the man she chose to marry would have wanted her to.