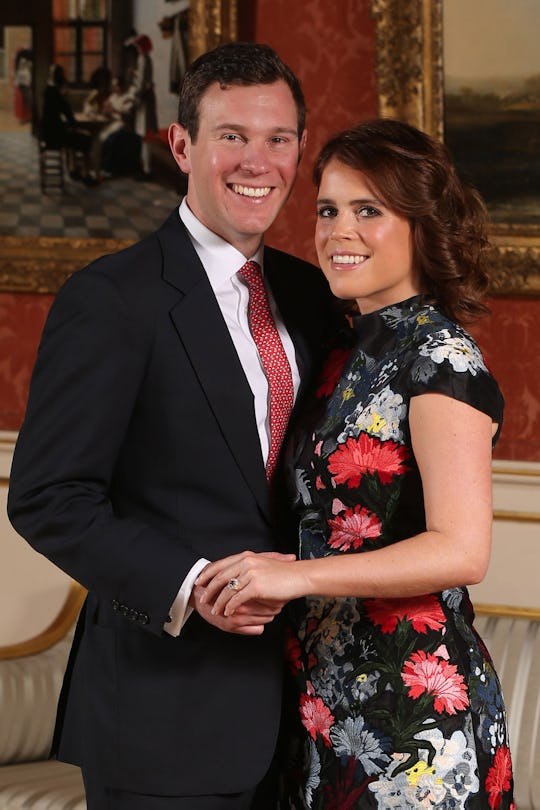 WPA Pool/Getty Images Entertainment/Getty Images
Why Princess Eugenie & Jack Brooksbank's Wedding Cake Breaks Royal Tradition
Iced fruit cake. If that doesn't sound appetizing to you, then be glad you're not a royal... because that is the traditional cake served at royal weddings. But Princess Eugenie's wedding cake breaks from royal tradition, and it truly sounds delicious. As People reported, the princess and her fiancé, Jack Brooksbank, will serve up a chocolate and red velvet pairing to their guests this weekend.
If the wedding follows the format of Prince Harry and Meghan Markle's, then the cake will be served at the evening reception hosted by her parents, according to The Telegraph. It's being made by London baker Sophie Cabot, who described it to the paper as "special and unique, with autumn colors." Cake maker Rosalind Miller told The Telegraph that this choice follows a modern trend toward more personalized cakes among younger royals. Back in May, For Prince Harry and Markle's wedding, according to Good Housekeeping, the cake was a scrumptious lemon and elderflower combination.
News outlets have been speculating on every aspect of the wedding, and the menu is no different. The Sun, for instance, has been following along on Princess Eugenie's Pinterest board called "Eugenie's Guide to London" and pulling clues based on her choices. For example, her commend about loving the Petersham Nursery as a wedding destination has the paper wondering if she'll use them for decorating or catering. Or perhaps her mentions of The Detox Kitchen and The Mae Deli provide a hint about who she's turned to for food.
At this year's earlier royal wedding, according to Brides, the menu for the afternoon reception included a variety of canapés and other bowls. Options included poached free-range chicken in a lightly spiced yogurt with roasted apricot, croquette of confit Windsor lamb with roasted vegetables and shallot jam, pea and mint risotto, roasted pork belly, and more, according to Brides.
But this won't be the only chance guests have to fill up on sumptuous food; Princess Eugenie and Brooksbank are also hosting a party the day after the reception that is expected to have a more carnival-like atmosphere, as The Times reported. "After the more formal celebration at Windsor Castle, the Saturday bash will be a relaxed party. There will be dodgems and funfair rides, coconut shies, lots of food stalls, loads of cocktails, Bloody Marys for the hangovers and a festival vibe," a source told The Times. For that event the couple hired Peregrine Armstrong-Jones, the mastermind behind the two-day wedding bash thrown by David and Victoria Beckham in 1999, as Brides reported.
The Beckhams are among 850 people rumored to be guests at the weekend of festivities along with celebrities like Ellie Goulding and James Blunt, as People reported. Princess Eugenie is also good friends with Cara Delevingne, Chelsy Davy and Cressida Bonas, who both dated Prince Harry and are expected to attend, according to Vanity Fair. Additionally, 1,200 members of the public will be on the grounds of Windsor Castle during the ceremony, similar to Prince Harry and Meghan Markle's wedding, according to The Telegraph.
In spite of all that has gone into planning this big event, it's guaranteed that it will all melt away for the couple when they stand together in front of the bishop and exchange those all-important vows. And that's the best kind of wedding of all.