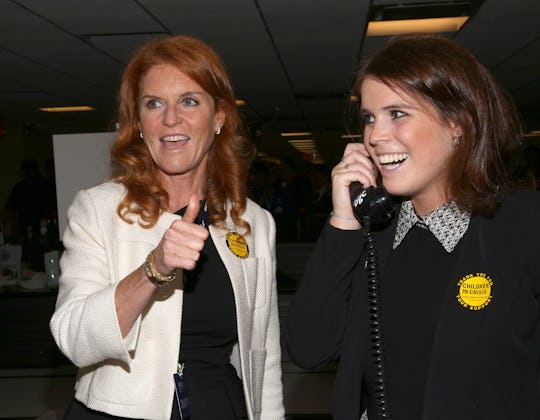 Paul Zimmerman/Getty Images Entertainment/Getty Images
Princess Eugenie Might Honor Her Mom On Her Wedding Day In This Special Way
Princess Eugenie is nearly set to walk down the aisle at St. George's Chapel in Windsor Castle to marry her fiancé, Jack Brooksbank, on Oct. 12. I mean, I assume she's nearly set since we are now just days away from the next royal wedding. People are getting excited to see her wedding for several reasons, too, primarily because she's a princess, obviously, but also perhaps because of her family history. Her mom and dad are divorced, and the royal family hasn't exactly been warm to Sarah Ferguson in recent years. But not to worry, Princess Eugenie could honor her mom on her wedding day in several ways. Because whatever the royal family thinks, she clearly loves her mom.
Sarah Ferguson married Prince Andrew, the younger brother of Prince Charles, in 1986. On that day she wore a tiara reportedly commissioned by Queen Elizabeth and Prince Phillip called the York tiara (because once she married her prince the couple became the Duke and Duchess of York). While the two divorced in 1996, the couple have remained close. In fact, they still live together. And it looks as though Princess Eugenie, the youngest daughter of Prince Andrew and Sarah Ferguson, is expected to honor that closeness by wearing her mother's tiara on her wedding day, as reported by Us Weekly.
When Sarah Ferguson married Prince Andrew, she actually wore a flower circlet in her hair covering the York tiara (which the Daily Mirror reports is worth almost $400,000) until she was officially married. The flower circlet was made from gardenias, Prince Andrew's favorite flower, and once she was married she removed it to reveal the gorgeous tiara. Why did she wait? Well, there is a rule in the royal family that says unmarried women may not wear tiaras, which seems pretty unreasonable if you ask me. But hey, I don't make the rules.
Despite the fact that it might be marginally unfair, Princess Eugenie has followed that rule. If she wears a tiara on her wedding day, it will be her very first time. And if she does happen to wear her mom's tiara, it will be the first time the York diamonds will be seen in public in 17 years.
There is another way that the young princess might be honoring her mom at her wedding, too. Just days before she's set to marry Jack Brooksbank she colored her hair a stunning red, just like her mom, which should give everyone major flashbacks.
Princess Eugenie's wedding might be a bit of a rough go when it comes to her mom and the rest of the family, as the royal family and Prince Phillip in particular have reportedly been somewhat estranged from Ferguson since she and Prince Andrew divorced in 1996. But Princess Eugenie and, indeed, both of her parents seem to have risen above the drama. Her wedding reception will be hosted by both her parents at the Royal Lodge, where Prince Andrew and Sarah Ferguson still reportedly live together. And Sarah Ferguson does seem to be working on a better relationship with the royal family; she was invited to the Duke and Duchess of Sussex, Prince Harry and Meghan Markle's, wedding in May, which makes sense considering she and his late mother, Princess Diana, were lifelong friends.
Sarah Ferguson is the mother of the bride, and this bride seems to be making it pretty clear that her mother is important to her. Whether she's wearing her tiara or not, it's going to be a special day for the York family.