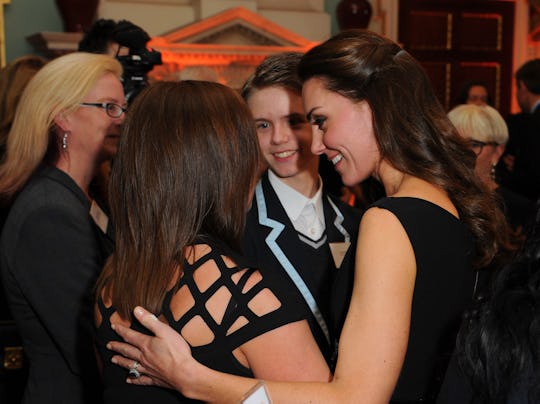 Eamonn M. McCormack/Getty Images Entertainment/Getty Images
Princess Kate Hugs Mother Whose Son Lives With Autism & Restores Our Faith In Humanity
I can't handle it when moms cry, and neither can Princess Kate. It's just something we have in common, no big deal. Except right now, when being nice seems like this sort of weird, old-fashioned commodity — like for-real corsets or poodle skirts — and the sight of Princess Kate hugging a mom whose son lives with autism feels like a big deal. Human beings are still nice sometimes, after all. Ain't it grand?
Princess Kate was in her usual fine form at a children's charity event in London on Tuesday, greeting people and smiling, smiling, smiling like her typical gracious self. The princess was chatting with 13-year-old Ethan Knapton about his experiences being bullied as a child with autism when his mom, Ceri Knapton, broke down crying. Knapton told reporters after the fact:
I vowed that I wouldn't cry but was just overcome listening to Ethan. The Duchess just leaned over and said to me "I've got to give you a hug as a mum." I couldn't believe it. It was such a kind gesture.
Let's take a moment to appreciate this. The Duchess of Cambridge, arguably one of the most famous women in the world, who meets thousands of people on a monthly basis, hugged a fellow mom. Because she knows, when it comes right down to it, this is what binds us. Our shared human experience. Our connection to each other. Our empathy.
And now I'm crying myself. God, I wish Princess Kate was here to hug me.
According to People, Knapton's son Ethan told Princess Kate (who herself is the mother of two children, 3-year-old Prince George and 1-year-old Princess Charlotte) all about his years of being picked on in primary school, when his condition had not yet been diagnosed and he suffered from uncontrollable tics and difficulty concentrating:
It was a very difficult time but my diagnosis helped me to cope with what I was experiencing. I decided that I wanted to speak out about it. There is no point in sitting back. I'd rather stand up and make a difference.
His mother was obviously incredibly proud of her son. She told the princess:
It's not been an easy few years but he makes me feel so proud. His autism and Asperger aren't labels but an explanation of what makes Ethan the boy he is. The fact that he wants to use that to benefit others less able to speak out is just amazing.
Princess Kate, her husband Prince William, and brother-in-law Prince Harry have made ending the stigma surrounding mental illness a priority in their lives. The three created the Heads Together campaign to encourage people to get the help they need for their mental illness. As she said in her speech for World Mental Health Day:
All of us know someone who has been through difficult emotional times, and we know how hard it can be to see a way forward.
William, Harry and I feel it is our duty to do what we can, with your help, to shine a spotlight on emotional well being and highlight the support that is out there to prevent or manage the pain at difficult times.
It would be easy enough for Princess Kate to live in a castle, raise her beautiful children, and disconnect with the world. But this is why people love her; she's not interested in that sort of life. She's interested in humanity.
Let's clone her, shall we?