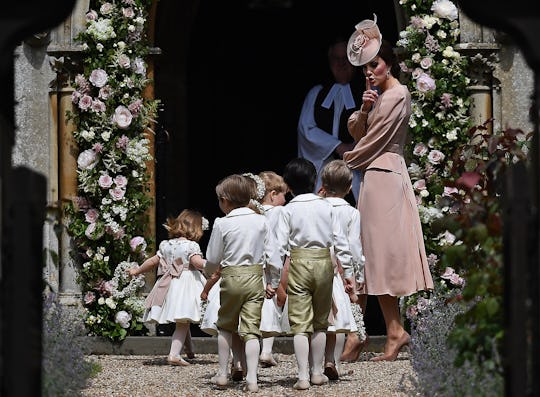 WPA Pool/Getty Images Entertainment/Getty Images
Kate Shushing Kids At Pippa's Wedding Is Everything
At a beautiful 12th century church in the English countryside, Pippa Middleton married financier James Matthews on Sunday morning. The bride was escorted down the aisle by her father, Michael Middleton. She wore a custom-fit white lace gown by Giles Deacon, looking serene and happy. In other news, her sister Princess Kate was shushing the kids at Pippa's wedding. Because someone's got to do the dirty work, and princess or not, Kate is a mom who knows how to get sh*t done.
Pippa Middleton's wedding day was full of flowers, lace, smiles, and royals (besides her sister, the Duchess of Cambridge, Prince William and Prince Harry were also on hand to witness the occasion). Oh... and children. Scads of children. While Princess Kate might not have been in the wedding party, she had a very important part to play. She was sister of the bride, helping to fix and arrange Pippa's train the way her sister helped at her own royal wedding to Prince William in 2011 by doing just the same thing as maid of honor. But things have changed since 2011 for the former Middleton sisters. One of them has become a mother twice over. To two very important members of the wedding party; three-year-old Prince George was a page boy, while the wonderfully mischievous two-year-old Princess Charlotte was a bridesmaid. Which means Princess Kate knows a little something about the ways of children. And so, rather than posing for pictures outside the church, she wrangled kids. And shushed them
Princess Kate wore a pale pink Alexander McQueen dress and an iron fist (just kidding, though her stern mom face even scares the likes of me a little). With two of her own children in the wedding party, she had to keep an eye on things. And, from the looks of the photos, she most certainly held up her end of the bargain as designated kid handler.
The Duchess of Cambridge might be queen some day, but on Pippa's wedding day, she was like any other mom and sister. Trying to make the kids listen and take a little of the burden off the bride's shoulders. But she did manage to sneak in a quiet moment of pure joy at the sight of her sister pulling up to the church in her wedding dress (even little Princess Charlotte looked impressed).
Princess Kate might be a beautiful, wealthy woman with literally millions of adoring fans all over the world. And also an actual princess. But at the end of the day, just like the rest of us moms, she gets stressed out at weddings with two toddlers underfoot.
And for whatever reason, knowing Princess Kate gets stressed with her kids brings me peace.