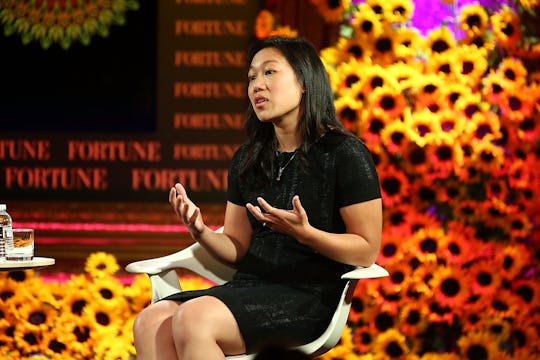 Joe Scarnici/Getty Images Entertainment/Getty Images
Priscilla Chan's Net Worth Is Incredibly Impressive
Priscilla Chan and Mark Zuckerberg have had a pretty fabulous month. The couple just welcomed their second daughter, the aptly named baby August (born in August, no less), and are settling in to life as parents of two girls. If you're worried about how much time Dr. Chan can take away from work, worry no more; Priscilla Chan's net worth should keep her going for awhile. She's also married to Facebook founder and CEO Mark Zuckerberg (though I'm definitely not implying she relies on him to pay the bills), who I hear he does alright financially, and I've also heard he's pretty supportive of parental leave. So it's a win-win for his wife.
Chan has a net worth of more than $18 billion, according to CNN Money, making her and husband Mark Zuckerberg one of the top 10 wealthiest couples in the world. She met Zuckerberg at Harvard where she was studying biology, and the two were married in 2012. Chan is a pediatrician and a philanthropist; when the couple's first daughter, Max, was born in 2015, Chan and Zuckerberg started the Chan Zuckerberg initiative, which aims to fund non-profits in an effort to "participate in policy and advocacy to shape debates," and "advance human potential and promote equality," according to the Facebook page.
While Chan is perhaps most widely known as the wife of Facebook giant Mark Zuckerberg, she has made significant philanthropic strides entirely separate from him. The pediatrician and one-time teacher took it upon herself to start a new kind of school in 2014, according to CNN. She is the co-founder and CEO of the non-profit private school The Primary School in East Palo Alto, a kindergarten to grade 12 school that aims to "foster each child's well-being as a foundation for academic and life success by drawing on the strengths of the child's entire community including family, educators, medical and mental health providers," according to the school's Facebook page.
Now Chan is most likely busy keeping up with her expanded family, although it appears she'll have Zuckerberg at her side for at least a few months. Zuckerberg announced in an Instagram post that he would be taking two months of parental leave to be with his new baby. Facebook has implemented a four-month paid parental leave program for its employees, which was announced in 2015 around the time Zuckerberg and Chan were expecting their first daughter, Max.
So yes, Chan has an impressive net worth. But perhaps what is even more impressive is her commitment along with her husband to do some good in the world. Whether they are donating $25 million to help eradicate Ebola (as they did in 2014, according to CNN Money), starting schools, or making the workplace family-friendly, these new parents are clearly trying to make the world a better place.