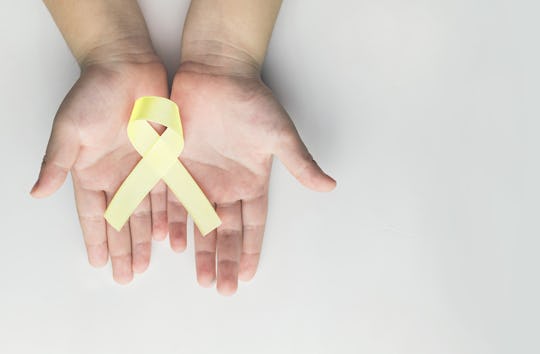 Pichai Pipatkuldilok / EyeEm/EyeEm/Getty Images
17 Stellar Products That Give Back To Pediatric Cancer Research & Treatment
September is Childhood Cancer Awareness Month, and while all cancer is heart-wrenching, pediatric cases makes me feel especially sad and helpless. If you'd like to support the cause but don't know where to start, check out these 17 products that support pediatric cancer treatment and research.
On average, 43 children in the United States are diagnosed with cancer each day, per The National Pediatric Cancer Foundation, and only 4% of government spending on cancer is allocated toward pediatrics. That staggering statistic means that private funding is paramount for research and treatment to make significant progress.
You'll notice that many of the brands listed below donate to Alex's Lemonade Stand Foundation (ALSF), a non-profit organization that works to fund research, raise awareness, and support families and children experiencing cancer.
Alexandra (Alex) Scott was diagnosed with neuroblastoma as a baby, and when she was 4, she set-up a lemonade stand in her front yard which raised $2000 for cancer research. While Alex tragically passed away at the age of 8, her legacy continues every day; ALSF has raised over 200 million dollars for pediatric cancer research and treatment.
You'll see other impactful nonprofits and hospitals on the list too, all with a shared goal of ultimately finding a cure for childhood cancer. And if a couple thousand dollars from a lemonade stand can become a couple hundred million dollars, you can bet you can make a difference too.