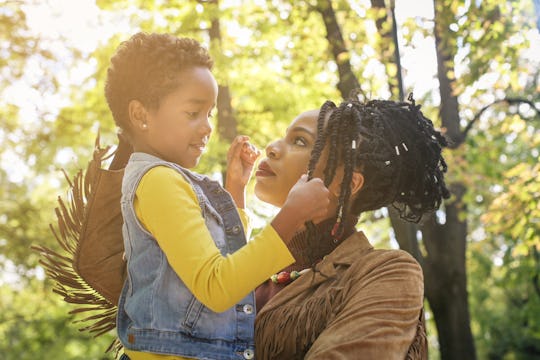 Mladen Zivkovic/Shutterstock
14 Low-Key Things You're Doing To Promote A Positive Body Image In Your Kids
The general attitude about what makes a body beautiful is ever-evolving in society. As a parent, it is sometimes hard to find ways to promote a positive body image for your kids because parents often struggle with their own body image issues, kids see media depictions of bodies that don't look like theirs, they are bombarded with unhealthy habits, and their peers tend to discuss body image in less-than-helpful ways.
Finding ways to encourage healthy eating habits without labeling certain foods as "bad" is something I struggle with daily. Just the other day, my son commented to my mother-in-law that his chocolate milk had too much sugar in it. Of course, he had already drank most of it, so he wasn't complaining, just simply pointing out what he had heard me say time and time again about sugary drinks. It was disheartening to hear a 4-year-old comment on the sugar content of his drink while enjoying a morning treat with his grandmother. It really made me re-think how I model healthy habits for my children. After all, they are little sponges when it comes to processing information, especially when it comes from mom, dad, or another main caregiver that they love and respect.
So, when I stand in front of a mirror critiquing my body, they see and hear that too. Fortunately, I am learning how to make small changes that have a large impact on how they view themselves and helping my kids have a positive relationship with their body. Here are some low-key ways that experts say you can incorporate body positivity into your kids' lives.