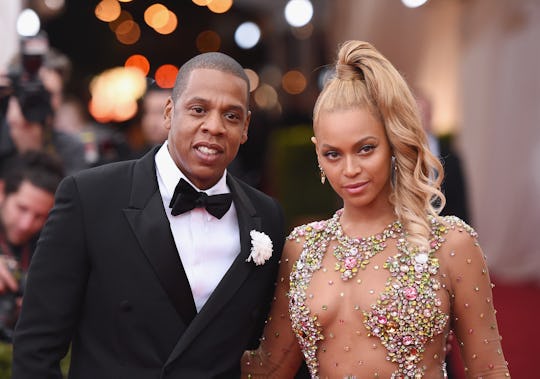 Mike Coppola/Getty Images Entertainment/Getty Images
Proof We Should Have Seen Beyoncé's Twins Names Coming
While it's safe to assume that Beyoncé and JAY-Z have indeed welcomed their beautiful twins and have even named them, there is still so much mystery surrounding these little ones. For instance, what do they look like? And who was born first? Why did their parents reportedly choose the names Rumi and Sir Carter for them? Well, as it turns out, we shouldn't be too surprised by the last question since there's plenty of proof that we should've seen Beyoncé's twins' names coming all along.
According to an in-depth investigation by The Washington Post, the names Rumi and Sir can be traced back to Persian poetry. Rumi could be named after a great Persian poet who is best known for his 64,000-verse long masterpiece Spiritual Verses, while TMZ reported that the name Sir might have been inspired by one of his poems:
"Bring the pure wine of love and freedom. But sir, a tornado is coming. More wine, we'll teach this storm A thing or two about whirling."
Sure, these is a chance that these connections are totally off, But, there is reason to believe that this type of speculation is right on the money because, as The Washington Post report found, this is not the first time Beyoncé and JAY-Z have referenced Persian culture.
First, we need to back up a just little bit and get familiar with the root of the name Rumi. According to Elahe Izadi, a pop culture writer for The Washington Post, "Rumi is how most folks refer" to Jalal al-Din Rumi, the famous 13th century Persian poet and who was known as a Sufi master of the Sufism religion, which is often defined as Islamic mysticism.
Now we're up to speed, so let's dig in. As The Washington Post pointed out, JAY-Z made a few references to Persian language, poetry, and the famous poet in his new album 4:44, on the song "Marcy Me":
"I started in lobbies, now parley with Saudis Sufi to the goofies, I could probably speak Farsi That's poetry, read a coca leaf from my past."
It's hard to ignore subtle hints, but here's another example: According to The Washington Post, within a Tidal playlist Beyoncé released earlier this year, you can find one song credited to a very popular Persian singer named Googoosh.
While these aren't necessarily in-your-face type of clues, they do provide a bit of insight into how Beyoncé and JAY-Z may have been inspired when naming their twins. If and when the Carters decide to divulge any of this information, fans will have to sit tight and continue investigating their mystical world.