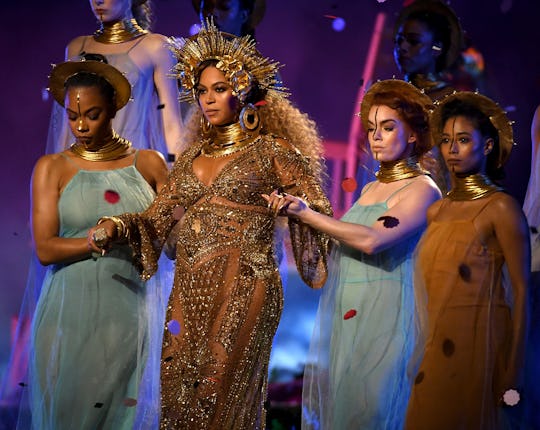 Kevork Djansezian/Getty Images Entertainment/Getty Images
What Does Rumi Mean? Beyonce's Twins' Names Are Here
They're here, you guys. Almost two weeks after the news broke that Beyoncé gave birth to twins, the world was still waiting for these kids' names. Specifically, many wondered what does Rumi mean? Bey reportedly gave birth to Rumi Carter and Sir Carter earlier in June, but given that Bey is a known planner who has filled her work and life with heavily researched symbolism (see: her pregnancy announcement, all of Lemonade), she likely didn't choose their names last-minute, and she almost certainly chose them for reasons beyond liking the sound of them.
Beyoncé and JAY-Z have never revealed the meaning of the name they chose for their first child, but Illuminati theories about Blue Ivy's name aside, it's thought to be a combination of a color and a number — "Ivy" as a different spelling of IV, the roman numeral for 4 — that have a lot of significance for the couple, The Daily Mail reported.
According to TMZ, which first reported the names, they came to light because "the company run by Bey and Jay that owns the trademarks to their names just filed legal docs to secure the rights to the names." The names filed for were reportedly Rumi and Sir Carter. This was after earlier rumors surfaced speculating that Beyoncé and JAY-Z had named their twins Bea and Shawn after themselves.
So what might Rumi mean? We may never know what it means to the Carters, but we do know that Rumi is the name of a famous Muslim poet. As proven by the many literary references in Lemonade, Beyoncé has a strong appreciation for poetry. Somali-British poet Warsan Shire's verses are spoken throughout Lemonade. So it wouldn't be surprising if Bey and JAY named one of their long-awaited twins after a poet, especially one as renowned and often quoted as Rumi.
According to the American Academy of Poets, Rumi was born in 1207 C.E. in the Persian empire and spent most of his life in what we now know as Turkey. He is best known for the 64,000-verse long masterpiece Spiritual Verses.
There's no evidence yet that Beyoncé has quoted Rumi specifically in her work, but her appreciation for poetry and cultural references — see her pregnancy announcement, which was chock full of them — suggest that the name might indeed point to the Persian poet.
It could have other significance as well, though. According to the baby naming site Nameberry, Rumi is also a Japanese name meaning ""beauty, flow, lapis lazuli."
Leave it to the Carters to give their children's names many layers of meaning.