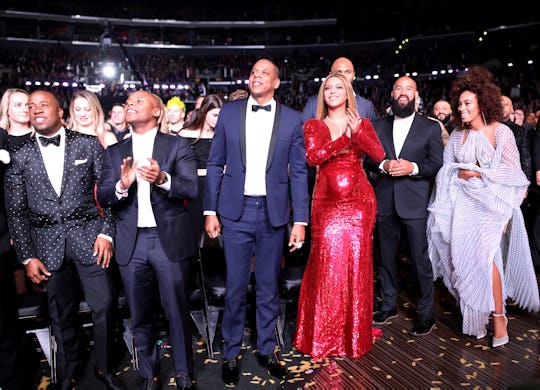 Christopher Polk/Getty Images Entertainment/Getty Images
Beyonce's Rumored Twins' Names Unexpected
After almost a week of speculation about whether or not Beyoncé had given birth to her twins, there's finally some news for the Beyhive. According to Hollywood Gossip, a source at the hospital where Beyoncé allegedly gave birth said the twins have been named. Nothing has been independently confirmed by representatives for the Carter family, so this is all still speculation. If true, though, Beyoncé's rumored twins' names are kind of unexpected... but also nice?
According to the source, the reported names are Shawn and Bea (which would be pronounced Bee). So they basically named their babies after themselves, because why the heck not? JAY-Z's full name is Shawn Carter, in case you missed it, and Bea, well, we all know where that came from.
If the report of the names is true, then the other rumor that she had given birth to one boy and one girl are also likely true, since Shawn and Bea aren't generally considered gender neutral names. Then again, we're talking about two of the most innovative American minds right now — Jay and Bey can do whatever they want.
Can you just imagine the adorable matchy-matchy twin outfits Beyoncé is going to pull out for the Bey-bies? It's going to be too good.
But before everyone gets carried away thinking about the tiny New York Yankees hats little Shawn could rock, remember: nothing, not even the birth of the twins, has been confirmed by the family. Complicating matters are the reports that Beyoncé did give birth last week, but that the babies are currently in the neonatal intensive care unit, since they were reportedly born premature.
That, too, is all according to anonymous sources. No one aside from her close friends and family knows exactly how far along Beyoncé was, so if the babies were born early, it's impossible to know just how early. If the twins are in the NICU, the Carters are likely exhausted and worried, so speculating about what the babies names are and clamoring for an Instagram post isn't exactly the most tactful thing to do. (Nor is anxiously awaiting their first wardrobe reveal. Guilty as charged.)
Though it doesn't have to mean that the twins are in too much danger. In general, twins are more likely than single babies to end up in the NICU because they often come early. With the two of them, space in the mother's uterus gets taken up more quickly, causing contractions and inducing labor. So while it's probably scary for the Carters if it's true the twins are still in the hospital, it's not necessarily bad news.
Then again, the whole Carter fam could just be chilling out by their pool spending some quality time with each other before having to deal with everyone's questions and opinions about their two new babies. That wouldn't be unlike them. Whatever the twins names are, let's hope they're healthy and happy. And ready to meet the world.