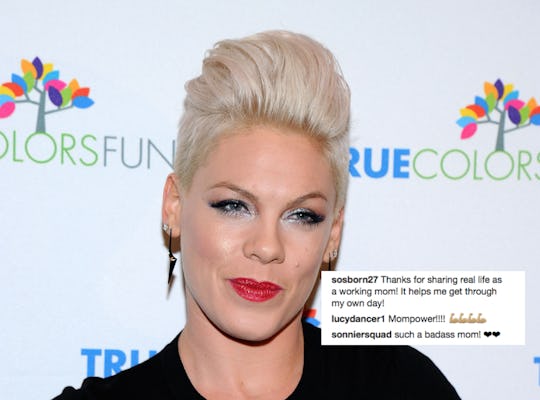 Ilya S. Savenok/Getty Images Entertainment/Getty Images
Pumping Moms Everywhere Will Love Pink's Newest Instagram Photo
When Pink announced the release date for her seventh studio album, Beautiful Tragedy, some fans wondered how she'd juggle her busy professional life (tours can be incredibly grueling) while taking care of her two young kids. Well, Pink's newest Instagram photo has officially put those questions to rest, and it's safe to say pumping moms everywhere will love and appreciate the picture. Raise a glass pumping moms — Pink is killing the game right now.
On Dec. 26, Pink gave birth to her second child, Jameson Moon Hart. Considering Jameson is still breastfeeding, Pink often has to pump breast milk while she's at work, which is a situation a lot of pumping moms can probably relate to. What breastfeeding mom hasn't pumped in an empty cubicle or a gross bathroom stall? Pumping moms (and formula-feeding moms, of course) are total troopers.
On Wednesday, Pink spoke to multitasking moms across the globe when she shared a confident pumping selfie taken in a bathroom. Pink captioned the impressive shot, according to Us Weekly: "#pumpupthejams #mombreak."
Yes, yes, and yes. The photo is amazing for many reasons, but especially because Pink looks so proud and self-assured in the photo. As for the caption, Pink gets a billion gold stars for "#pumpupthejams." Can this be the title of her next single, please? Pumping moms deserve an anthem.
For anyone that follows Pink, this pumping selfie should come as no surprise. Pink has proudly shown off her breastfeeding skills for years and she has no tolerance for breastfeeding shamers. If you Google "Pink breastfeeding," you'll find many articles praising Pink for reguarly sharing breastfeeding pics to social media. Now that Pink is traveling the world (she's in London right now) in an effort to promote her new album, it's likely she'll share more pumping-on-the-go selfies.
As for Pink's breastfeeding haters, take heed before you throw any shade her way. In an interview from 2012, Pink revealed how she almost started a fight with a breastfeeding shamer. According to TODAY, a man had the nerve to glare at Pink while she breastfed her daughter, Willow, in public.
Pink explained, according to TODAY:
I had a cover on. And this guy walks by, and he was like, 'Ughhh.' He was just disgusted.
Not one to be shamed by random strangers, Pink said to the man, according to Babble:
I was like, 'You didn't get enough hugs when you were little.'
You've been officially warned, breastfeeding shamers — don't come for Pink.
It goes without saying that Pink's pumping and breastfeeding selfies are super important. Pink's photos normalize and celebrate pumping and breastfeeding, and this does so much good for pumping moms everywhere. Keep the pumping Instagram posts coming, Pink.