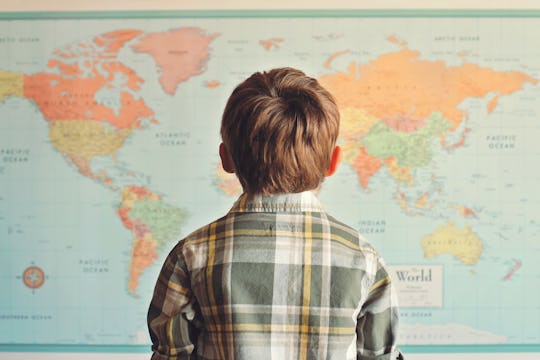 Annette Bunch / Getty
9 Questions To Ask Your Child's Kindergarten Teacher On The First Day Of School
Chances are you never dreamed that your child would be starting kindergarten in the midst of a global pandemic, but here we are. Whether they're masked-up and headed to school, or they're participating in remote-learning, there are some questions you should ask your child's kindergarten teacher at the start of the school year that may help everyone feel more at ease.
There are logistical questions like whether or not your kid will have homework, and then there are other less obvious topics that may be on your mind, like how a teacher is planning to handle discipline. Whatever your concerns are, don't worry about asking a "silly" question or sugar-coating your concerns. "Authentic communication is the key to the relationship between a parent and a teacher," founding educator behind the science-based teaching program Fit Learning and author of the upcoming book Blind Spots: Why Students Fail And The Science That Can Save Them, Dr. Kimberly Berens, Ph.D., tells Romper. "Many parents are afraid to express their concerns regarding their child's performance in the classroom for fear that the teacher will take it personally or feel insulted." She adds that as long as questions are posed in a warm and honest way, parents should feel free to ask away with the understanding that the teacher is on your team; you both want your child to be happy and to succeed.
On how and when it is appropriate to ask questions, Richard Melling, a kindergarten teacher in Portland, Oregon, says he prefers emails for most "easy" or logistical questions with a straightforward answer. "If there's a big issue a phone call or video chat sometimes works much better. For these sensitive issues, it can be helpful to send a short email first, [for example] — 'I'm wondering whether we could set up a video chat to discuss some worries about Sophia really not liking her math lessons,'" he says. This gives teachers the time to truly think over the question and answer in the most thoughtful way possible.