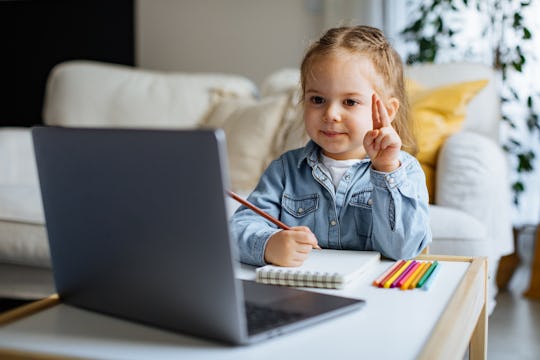 ozgurcankaya/Getty Images
What 11 Kindergarten Teachers Want Parents To Know About This Fall, No Matter What
Every year, kindergarten teachers are descended upon by anxious parents filled with questions — and usually, those queries can be answered. This year, however, educators might be just as uncertain as parents in many ways about the year ahead, but that doesn't mean they don't have some very valuable information to share. So what do kindergarten teachers want parents to know this year?
If this is your kid's first year of school, it probably won't be the experience you've been imagining since the day they were born. You most likely won't see them sharing crayons or tagging their friends on the playground. You might not even see kids in the same classroom: 5 out of 10 of the largest school districts in the country are choosing remote learning only,Education Week reported.
Still, if you're planning on sending your child back to a brick-and-mortar school in the fall (or even if you're planning on distance learning), it's important to know what your child's educators are thinking. Many of them share the same concerns as parents, and it's their goal to make sure that your child is safe, healthy, and happy. Here's what 11 kindergarten teachers want parents to know about COVID-19, your kid, and the classroom.