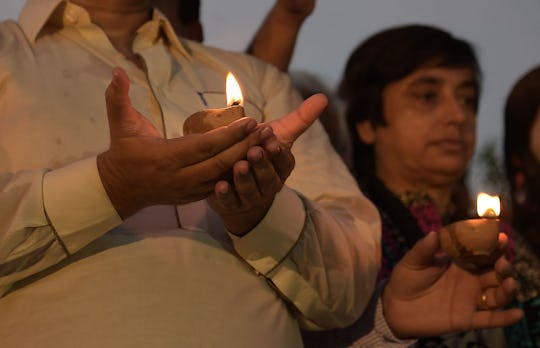 AAMIR QURESHI/AFP/Getty Images
Quetta Hospital Bombing: What You Should Know About The Deadly Suicide Attack
A deadly suicide attack during a funeral for a prominent lawyer rocked Quetta, Pakistan on Monday. At least 74 people have died in the attack, which took place outside Quetta Hospital, according to Pakistan officials. That number may still potentially rise as severely injured victims continue to be treated. While much of the detailed information still has yet to be revealed, here is what you should know about the Quetta hospital bombing.
In addition to the 74 dead, more than 100 people were wounded. ISIS and Jamaat-ur-Ahrar, an arm of the Pakistani Taliban, were both quick to take responsibility. While ISIS claims the suicide bomber was one of their fighters, some Pakistani officials have remained skeptical, according to NBC News. "The ISIS claim seems very unconvincing." said Imtiaz Gul, director of the Center for Research and Security Studies in Islamabad.
These same officials believe the explosion may have been the work of Jamaat-ur-Ahrar militants, a Taliban faction that is actively fighting to overthrow the Pakistan government so they can instill strict Islamic law. Muhammad Amir Rana, head of the Pakistan Institute for Peace Studies, said that "the claim of responsibility by Jamaat-ur-Ahrar is more credible."
Social Media Response Has Been Quiet
The global response to this tragedy has been shockingly brief. Democratic Presidential candidate Hillary Clinton offered this statement on Twitter:
Today's bombing of a hospital in Pakistan is despicable. We have to stand up against terror and come together to prevent these attacks. -H
The U.S. State Department also issued a statement condemning the attack:
Today, terrorists targeted a hospital, as well as the judiciary and the media, two of the most important pillars of every democracy.
Otherwise, very few international politicians have offered any kind of statement regarding the bombing. And considering the international outpouring of support for the recent bombings in Egypt, France, and Belgium, some people have taken to social media to show their support for the victims of the Quetta bombing and voice their frustration at the lack of media coverage.
The Suicide Bombing Happened Inside An Emergency Room
An anonymous member of the Bomb Disposal Squad in Quetta confirmed to The Express Tribune that this was a suicide bombing. "The bomber was carrying around eight kilos of explosives packed with ball bearings and shrapnel to inflict maximum casualties," they said.
The suicide bomber attacked an emergency room, where mourners (including many local lawyers) had come to pay their respects to Bilal Anwar Kasi, who had been shot and killed earlier that day. Shah Mohammed, a local lawyer and member of the Balochistan Bar Association, told BBC News,
The blast happened when the body was being carried out through the gate. I fell down with the impact, then got up and took to running. All around the emergency gate, there were heaps of men lying over each other; some dead, some injured. There seemed to be hundreds of them. Some of the bodies were burning, some were torn to pieces. Many of them had been my lifelong colleagues.
Many Lawyers Were There To Mourn Recently Slain Lawyer Bilal Anwar Kasi
Bilal Anwar Kasi was the President of the Balochistan Bar Association. He was ambushed in his car by two unidentified males on motorcycles just outside the city of Quetta and assassinated. According to Home Minister Safraz Bugti it is being considered a coordinated attack. "The terrorists first targeted a prominent personality and waited for lawyers and other people to gather at the hospital in large numbers before unleashing carnage."
Balochistan, The Province Of Quetta, Has A Serious Problem With Insurgents
This attack took the lives of 60 local lawyers in one fell swoop, almost every lawyer in the area, leaving the Balochistan province ripe for separatist insurgent groups. According to a report by The Washington Post, the province (which is the largest in Pakistan) has long struggled with corrupt politicians, Sunni extremists, and the murder of dozens of local journalists. Lawyers were considered by some the last, best hope for any sort of justice in the area.
The Attack Prompted A Nationwide Lawyer Strike
Since Monday's hospital bombing, the remaining lawyers in Pakistan have called for a nationwide strike, boycotting court proceedings and allowing themselves time to mourn their fallen colleagues.
"We [lawyers] have been targeted because we always raise our voice for people's rights and for democracy," SCBA President Ali Zafar told reporters in Lahore. "Lawyers will not just protest this attack, but also prepare a long-term plan of action."
Unfortunately, they will now be protesting without some of their colleagues powerful voices.