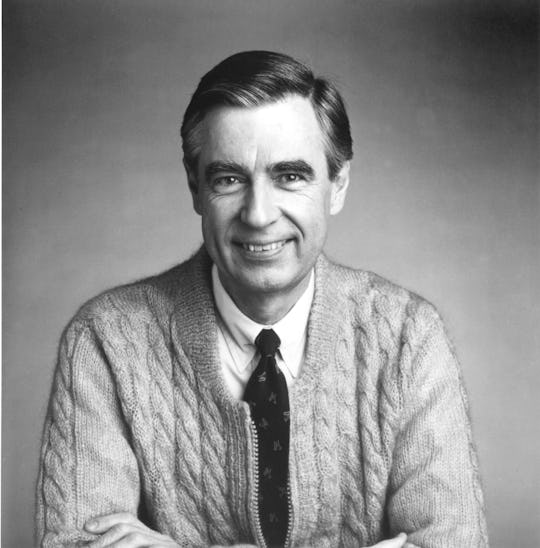 Getty Images/Getty Images Entertainment/Getty Images
Moving Quotes From Mr. Rogers' Speech To Congress
Fred Rogers, the beloved host of the children's program Mister Roger's Neighborhood, appeared before the U.S. Senate Subcommittee on Communication in 1969 to stand up for PBS and the Corporation for Public Broadcasting, after then-President Richard Nixon proposed cutting CPB's $20 million budget in half. Rogers traveled to Washington, D.C. to argue against the budget cuts and explain why public television was vital for the United States, but especially for its children. Rogers' moving speech about his life's work has unsurprisingly gone viral once again, as President Donald Trump moves to make similar budget cuts to the arts and public broadcasting in his proposed 2018 budget. And just as it did in 1969, these quotes from Mr. Roger's speech to Congress prove that PBS and public television in general is still an important part of life for kids today.
The White House announced Trump's first proposed budget for 2018 on Thursday. While Nixon aimed to slash the funding by half back in 1969, Trump plans to terminate CPB's federal budget completely. The Trump administration has proposed making massive cuts to a number of well-loved arts programs as well, and many high profile individuals, following Rogers' lead, have begun to speak out in their defense (just take a look at the iconic Julie Andrews' moving op-ed for CNN, for example). Others have turned once again to Rogers himself, sharing snippets from his thoughtful speech to Congress, which remains one of the most relevant arguments against budget cuts for public services.
Below are a few of the most impassioned and heartfelt moments:
On The Impact Federal Funding Has On Public Broadcasting
Rogers revealed the huge difference federal funding made in public television's budget. While $6,000 is a small amount of money compared to shows on other channels, it was that federal funding that finally allowed Rogers and colleagues to make meaningful, educational television programs for children:
My first children's program was on WQED 15 years ago and its budget was $30. Now with the help of the Sears Roebuck Foundation and National Educational Television, as well as all the affiliated stations ... each station pays to show our program. ... It's a unique kind of funding in educational television. With this help, now our program has a budget of $6,000.
On How Children's Educational Television Changes Lives
There are plenty of children's shows that lack real substance. Rogers' programs and others like it on public television were never like that: They aimed to deal with real problems children faced in a gentle way and taught them how to deal with those issues in a positive, constructive way — and they continue to do so to this day:
We deal with such things as the inner drama of childhood. We don't have to bop somebody over the head to make drama on the screen. We deal with such things as getting a haircut or the feelings about brothers and sisters and the kind of anger that arises in simple family situations. We speak to it instructively.
On The Positive Influence Public Broadcasting Has On Children's Mental Health
Rogers said his aim was not just to entertain the children who watched his shows. He wanted to teach them important lessons about their feelings and mental health that they would be able to take with them throughout their life. The same could be said for most kids shows on public television these days, including Arthur, Sesame Street, and more:
This is what I give. I give an expression of care every day to each child, to help him realize that he is unique. I end the program by saying, "You've made this day a special day, by just your being you. There's no person in the whole world like you, and I like you, just the way you are." And I feel that if we in public television can only make it clear that feelings are mentionable and manageable, we will have done a great service for mental health.
On The Safety Net Public Broadcasting Offers Children
Throughout his speech to Congress, one thing was abundantly clear about Rogers: He and his colleagues genuinely cared about the children who were tuning into his show and public broadcasting in general. Rogers knew that those shows provided a safe, positive, and informative space for kids — and that it was especially necessary when what was happening in the world was too much for them to process:
I'm constantly concerned about what our children are seeing. For 15 years I have tried in this country and in Canada to present what I feel is a meaningful expression of care.
Sure, most children's programming these days aims to provide meaningful content to kids — but there's something genuine and real about public broadcasting that gives all kids (low-income, privileged, able-bodied, disabled, children from all ethnic backgrounds) the ability to retreat to a carefully crafted, non-commercially driven space like PBS.
On The Important Lessons Public Broadcasting Teaches Kids
Despite having a vastly smaller budget than children's programs on other channels, Rogers was still able to reach his views in a meaningful way. One way he did this was through song. During his address to Congress, Rogers read the lyrics to his song "What Do You Do With The Mad That You Feel?" which addresses how to deal with feelings of anger; The lyrics are still moving today:
What do you do with the mad that you feel, when you feel so mad you could bite? When the whole wide world seems oh, so wrong… and nothing you do seems very right?
What do you do? Do you punch a bag? Do you pound some clay or some dough? Do you round up friends for a game of tag? Or see how fast you go?
It's great to be able to stop, when you've planned a thing that's wrong, and be able to do something else instead, and think this song:
"I can stop when I want to, can stop when I wish. I can stop, stop, stop any time. And what a good feeling to feel like this, and know that the feeling is really mine."
Know that there's something deep inside that helps us become what we can. For a girl can be someday a woman, and a boy can be someday a man.
This lesson and others like it are continually taught on public broadcasting to this day. Take away PBS, Mr. Rogers' Neighborhood, Daniel Tiger, Arthur, Wild Kratts, Peg + Cat, and many others, and you're taking away the one source of life learning many kids get outside of school — one that would be sorely missed.
Rogers passed away in 2003, but his words have proved timeless again and again. He worked to make the world a safer, more thoughtful place throughout his career. Without financial assistance from the U.S. government, children across the country would have missed out on the vital educational programs Rogers created. Even though he's gone now, Rogers' legacy is a prime example of why public television is still necessary today.