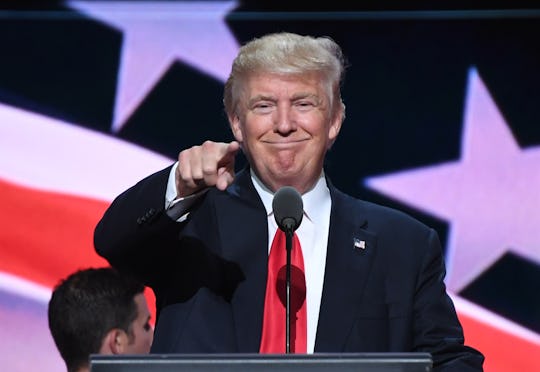 JIM WATSON/AFP/Getty Images
Quotes From Trump's Convention Speech Prove He's Not Holding Back
Would he talk about his foreign policy plan, or focus on his plan for the future of economic development? Would he address his wife's infamous speech, or just slide it under the rug? Heading into the final night of the Republican National Convention in Cleveland, expectations were high for Republican presidential candidate Donald Trump's speech on both sides of the fence. Would he totally bomb, or would he manage to further dazzle his followers? Well, take a look at a few quotes from Trump's convention speech, and decide for yourselves. How do you think he fared? Is he ready to "Make America Great Again?"
This year's RNC has been plagued (or blessed, depending on how one looks at it) with more drama than any other convention in living memory. Whether it was Melania Trump allegedly lifting portions of her convention speech from Michelle Obama's 2008 speech at the Democratic Convention, fights breaking out on the Convention floor between Trump and Cruz followers, or Sen. Ted Cruz refusing to endorse Trump amid a chorus of GOP boos and chilling stares from the Trump family, honestly it's been better than Game of Thrones (and coming from me, that's saying a lot). Democrats and Republicans alike wondered if Trump would end things on a calmer, more balanced note... or keep the drama going?
Trump opened up his speech (the transcript was reportedly leaked, according to Politico) with an eye to the recent violence in America:
Our Convention occurs at a moment of crisis for our nation. The attacks on our police, and the terrorism in our cities, threaten our very way of life. Any politician who does not grasp this danger is not fit to lead our country.
Americans watching this address tonight have seen the recent images of violence in our streets and the chaos in our communities. Many have witnessed this violence personally, some have even been its victims.
I have a message for all of you: the crime and violence that today afflicts our nation will soon come to an end. Beginning on January 20th 2017, safety will be restored.
He then went on to remind his voters that he, unlike the Democrats, would never lie to them. Trump continued to sell himself as the anti-establishment candidate that voters need.
So if you want to hear the corporate spin, the carefully-crafted lies, and the media myths the Democrats are holding their convention next week.
But here, at our convention, there will be no lies. We will honor the American people with the truth, and nothing else.
Trump addressed the immigration issue that was sure to be a hot button topic for his voters.
The number of police officers killed in the line of duty has risen by almost 50% compared to this point last year. Nearly 180,000 illegal immigrants with criminal records, ordered deported from our country, are tonight roaming free to threaten peaceful citizens.
The number of new illegal immigrant families who have crossed the border so far this year already exceeds the entire total from 2015. They are being released by the tens of thousands into our communities with no regard for the impact on public safety or resources.
Unsurprisingly, Trump had a few choice words for his opponent, Democratic Presidential candidate (and former Secretary of State) Hillary Clinton.
Her bad instincts and her bad judgment – something pointed out by Bernie Sanders – are what caused the disasters unfolding today. Let's review the record. In 2009, pre-Hillary, ISIS was not even on the map.
Trump went on to detail his foreign affairs policy, outline his plan to encourage economic development... and even gave a shout out to Vermont Sen. Bernie Sanders.
I have joined the political arena so that the powerful can no longer beat up on people that cannot defend themselves. Nobody knows the system better than me, which is why I alone can fix it. I have seen firsthand how the system is rigged against our citizens, just like it was rigged against Bernie Sanders – he never had a chance.
Trump concluded his speech with a new slogan; supporters of Hillary Clinton say "I'm with her", but Trump is now all about "I am your voice."
I am your voice.
So to every parent who dreams for their child, and every child who dreams for their future, I say these words to you tonight: I'm With You, and I will fight for you, and I will win for you.
To all Americans tonight, in all our cities and towns, I make this promise: We Will Make America Strong Again. We Will Make America Proud Again. We Will Make America Safe Again. And We Will Make America Great Again.
Next week marks the beginning of the Democratic National Convention in Philadelphia, where presumptive Democratic Presidential candidate Hillary Clinton will have a chance to speak to her own delegates. And then we will be in the home stretch to the election in November, folks.
It should be a quiet, easy few months of gentle campaigning and no scandals to speak of, right?