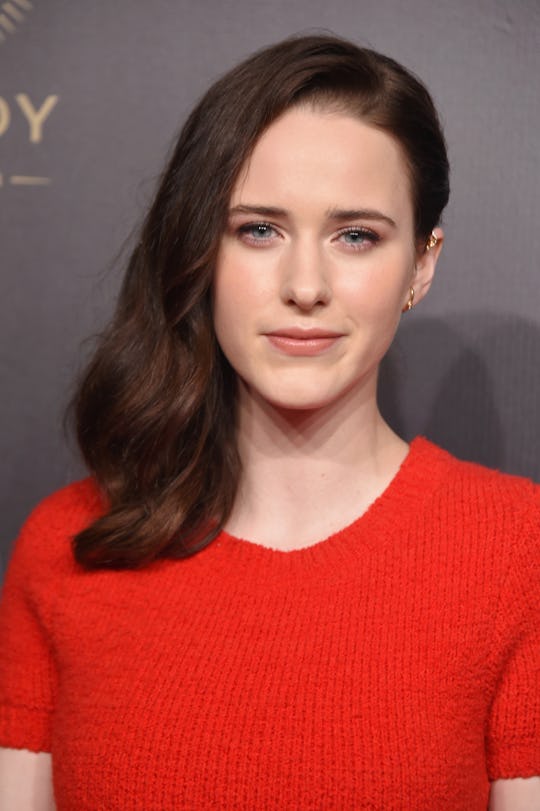 Michael Loccisano/Getty Images Entertainment/Getty Images
Rachel Brosnahan's Video Tribute To Aunt Kate Spade Has A Very Important Message Behind It
Kate Spade, the iconic designer of her eponymous fashion brand died of an apparent suicide on Tuesday in her New York apartment. She was just 55 years old and the mother of a 13-year-old daughter, Frances. Her tragic death came as a serious shock to the fashion and entertainment industry, and celebrities have been sharing their condolences on social media. But one celebrity was hit particularly hard; her niece, and star of The Marvelous Mrs. Maisel. Rachel Brosnahan's video tribute to aunt Kate Spade acted as a sweet, thoughtful reminder of how the designer would want to be remembered. Happy, laughing, and dancing. (Romper reached out to Kate Spade's rep for comment and did not yet receive a response.)
The Marvelous Mrs. Maisel actress took to Instagram on Wednesday to generously share a lovely memory of her aunt (who was born Katherine Noel Brosnahan) dancing with her husband, Andy Spade. The famous designer is smiling in the video, wearing a fun hat and a caftan and dancing in front of a Christmas tree to a Mariachi band. She looks like she's having a great time, relaxed and happy. And as Brosnahan noted in her emotional Instagram post, "Knowing Katy, this is how she would want to be remembered."
Brosnahan continued in her Instagram caption:
She had a light that words can't capture but touched everyone she came into contact with. She was exceedingly kind, beautifully sensitive, insanely talented, funny as heck and one of the most generous people I have ever known. She was effervescent. Hug your loved ones extra tight today.
It's clearly a difficult time for everyone in the Spade family. To lose someone who was clearly so well-loved and respected is always difficult. But for Brosnahan to share a memory to shift attention to how she believes her aunt should be remembered is a thoughtful, loving way to honor her aunt. In fact, Spade did tell Glamour in 2002 that she wanted to be remembered in just such a way after she was gone:
If you're as honest and fair as you can be, not only in business but in life, things will work out. I hope that people remember me not just a good businesswoman but as a great friend—and a heck of a lot of fun.
For her part, the fashion icon was especially proud of her niece. When Brosnahan won a Golden Globe for her performance in Marvelous Mrs. Maisel in January, Spade told Page Six:
I am beside myself! My daughter and I jumped up and down when she won. She deserves this recognition, as she's put her heart and soul into the role. We are insanely proud.
David Spade, who is Spade's brother-in-law, also took to Instagram to reaffirm just how special the designer truly was on Wednesday.
The actor captioned the picture with a sweet tribute to his sister-in-law:
Fuzzy picture but i love it. Kate and I during Christmas family photos. We had so much fun that day. She was so sharp and quick on her feet. She could make me laugh so hard. I still cant believe it. Its a rough world out there people, try to hang on.
Though people around the world will continue to mourn Spade, her family is proving that the way she is remembered remains vitally important. She was a woman who seemed to truly love the people in her life. Someone who could make comedians laugh, who loved to dance, who aspired to be a truly great friend.
If you or someone you know are experiencing suicidal thoughts, call 911, or call the National Suicide Prevention Hotline at 1-800-273-8255.