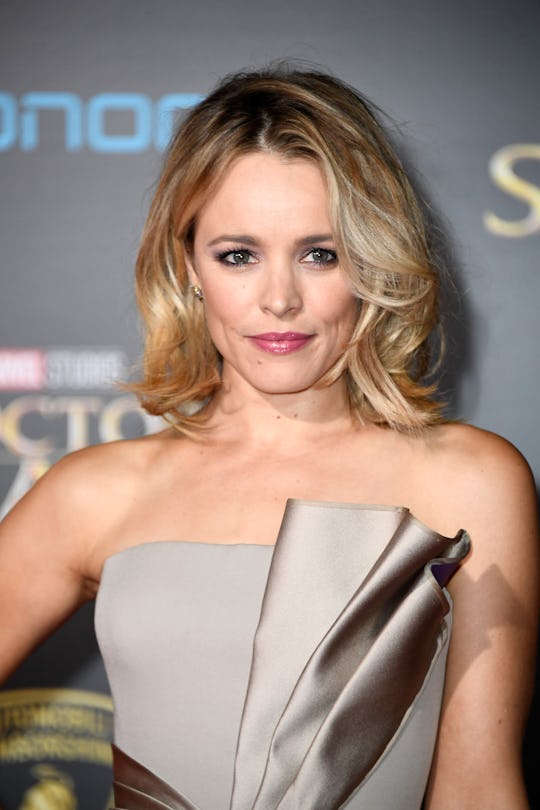 Frazer Harrison/Getty Images Entertainment/Getty Images
Rachel McAdams Is Reportedly Pregnant With Her First Child, & People Are So Excited
Throughout Kylie Jenner's top-secret pregnancy, fans desperately waited for the reality star to announce that she was expecting. And as you probably know, she never did; instead, she just announced the birth of her daughter. And, based on some recent news (rather, rumors), it looks like Jenner may have started a trend. According to some very shaky evidence by way of Life & Style, Rachel McAdams is reportedly pregnant. Soon after the rumor started, E! News confirmed that McAdams is indeed pregnant with her first child via "multiple sources," though the outlet said it had not received confirmation from her representative. And though McAdams' fans may understandably be excited about the rumors, it's important to note that spreading rumors about someone being pregnant is uncool.
An "eyewitness" told Life & Style that they spotted McAdams and her boyfriend, screenwriter Jamie Linden, at dinner in Atlanta on Feb. 13. "She looked to be at least seven months pregnant!" a patron at the restaurant, Staplehouse, reportedly told Life & Style. The source said the couple shared the news of McAdams' pregnancy with a "friendly stranger" in the restaurant. Though the evidence is tenuous — more on that in a moment — E! News is reporting it as a fact. So clearly, McAdams wants all the privacy she can get during this pregnancy, which is completely understandable.
And as noted by both Life & Style and E! News, McAdams has not been photographed since the fall. Jezebel added that the most recent image of the actress on Getty was taken in September 2017. That's totally normal for an actor who isn't promoting anything. However, McAdams has two movies hitting theaters soon — Game Night, opening this weekend, and Disobedience, coming to theaters in April.
Basically, all the evidence that McAdams is pregnant is a lack of photographs and confirmation from anonymous sources — but E! News says it's true, so yay, Rachel!
Many took to Twitter to express their excitement for McAdams, who will be a mom for the first time.
And yes, some of the congratulatory messages had Mean Girls undertones.
McAdams and Linden reportedly started dating as early as the summer of 2016, The Daily Mail reported. Linden is best known for both screenwriting and co-producing the films Dear John and We Are Marshall. He also wrote and directed the 2011 movie 10 Years, starring Channing Tatum, Jenna Dewan-Tatum, Justin Long, Oscar Isaac, and Chris Pratt.
McAdams has expressed a desire to have children in past interviews. In 2009, while promoting The Time Traveler's Wife, McAdams said, "Having kids would be great," as per Hello Magazine. "The little girls in this film were so fantastic. They are real sisters and they made my job really easy," she told People at the time. "So I didn't have to work too hard at that." She also added that when she becomes a mom, she plans to take on some of her own mother's nurturing qualities. "My mom is a great inspiration to me," she told People in 2009. "She's a nurse and very nurturing and gentle. She lets me be who I am. Hopefully I can take on those qualities and be as great as her."
So with parenthood clearly on the horizon for McAdams, it's safe to say that she will be an amazing mom. While McAdams has yet to confirm the news herself or through a rep, it's important to note that it's her choice to share (or not share) the news in her own time. Her pregnancy belongs to her and no one else, and if she chooses to pull a Kylie and keep things private until she has a baby to show for it, that's her call.
Check out Romper's new video series, Bearing The Motherload, where disagreeing parents from different sides of an issue sit down with a mediator and talk about how to support (and not judge) each other's parenting perspectives. New episodes air Mondays on Facebook.