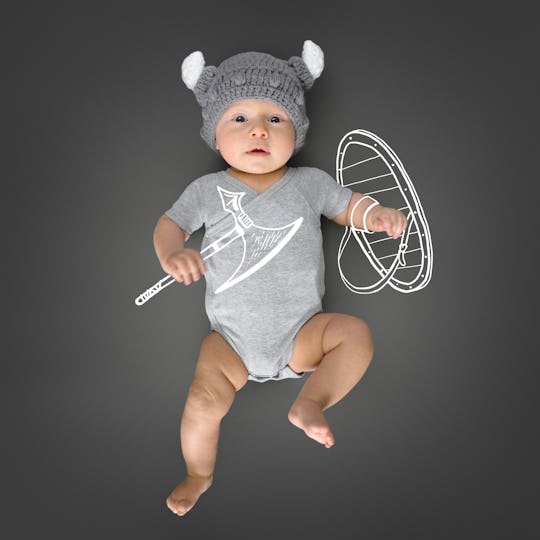 Shutterstock
Viking Babies Are Diaper-Clad Warriors — Here's How To Tell If You Have One
Do you sometimes look at your baby as he launches an entire bowl of peas at the wall with brute toddler force, and imagine him standing at the helm of a ship in a horned helmet, issuing commands for ice cream raids? Or when your little one crawls onto the "Mommy and Me" play-mat with a shriek and a snarl, like she's seizing new land, do you occasionally feel as if you're raising a Scandinavian pirate from the 790s? Yes? Well, here are five signs that you may in fact be raising a Viking baby.
The Happiest Baby blog lists four main baby personality types. There's the even-tempered "Walk in the Park" baby, the sensitive "Fragile As Crystal" baby, the intense bebe with a demeanor that boils between "Passion and Explosion," and there's the fussy baby — or as they diplomatically put it, "The Little Baby With a Big Personality." But what about the fiercely independent baby who wants to give her broken toys a Viking burial at sea? And by sea, I of course mean the toilet.
Let us explore the different traits of a Viking baby, shall we? If anything, it's a good excuse to peruse photos of Travis Fimmel from that show Vikings. Or to rewatch the "What's Opera Doc" episode of Looney Tunes.