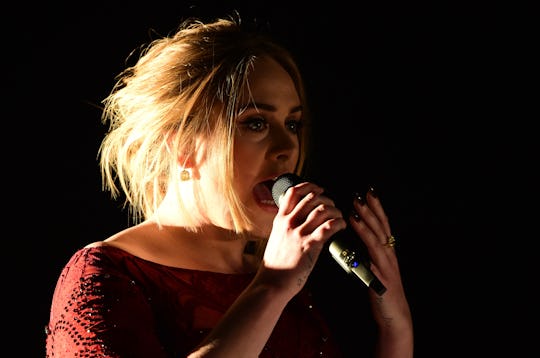 ROBYN BECK/Getty Images
Reactions To Adele's Grammys Performance Broke All Of Our Hearts (Just Like We Wanted It To)
It's Grammys night, and one artist viewers could wait to see take the stage Monday was the incomparable Adele. While the songstress' latest album, 25, isn't eligible for a 2016 Grammy, it has proven itself eligible for topping the charts and reminding everyone why she is such a beloved artist. From the moment she strode through the windswept landscape of the "Hello" video in that fur coat, she reminded us of how she owns her music, and reactions to Adele's 2016 Grammys performance confirmed that fans fully recognize that.
They waited a long time for 25. Adele took a hiatus after her previous album, 21, and she had good reasons. For one, she had her son, Angelo, and taking care of a baby can make creative pursuits like writing music, not to mention the grind of touring and performing night after night, way more challenging. ("It's f*cking hard. I thought it would be easy," she told I-D in a November profile.) There was also the fact that 21 was so good that I, at least, had a hard time imagining anything even equalling, let alone surpassing it. "Rolling in the Deep"? "Someone Like You"? Wasn't going to happen, or so you might have thought. But 25 became the first album to sell three million copies in one week and the first to sell one million copies in two successive weeks, according to ET Online. Even being released late in the year, it became the best selling album of 2015. Clearly, Adele has some seriously devoted fans, and at the Grammys Monday night, Adele showed yet again how utterly deserving she is of their loyalty and adoration.
People were decidedly unwell before she even started singing. About a billion Tweets to this tune popped up as soon as she took the stage:
I mean, I get it. I'm fairly unwell about all of this myself.
The response on Twitter was pretty much immediate and unanimous:
I would say bow down to the queen, but Adele herself has acknowledged that Beyoncé is the queen. Instead let's bow down to Adele, the one and only.