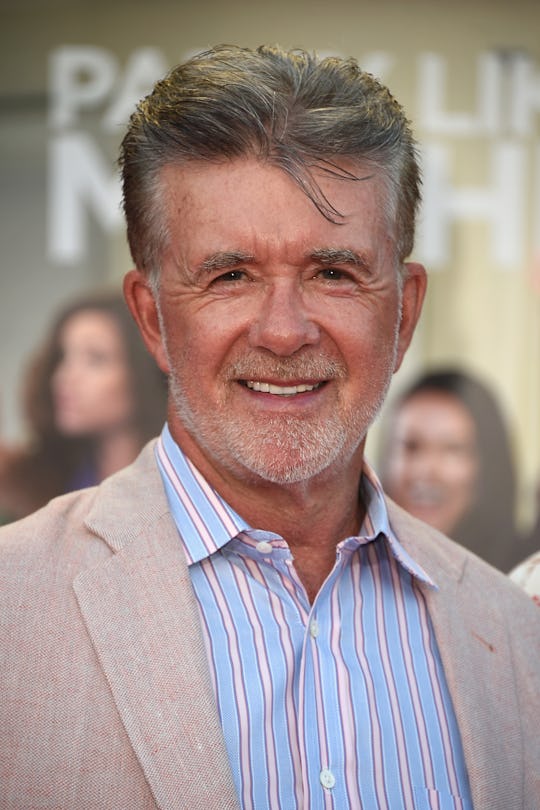 Frazer Harrison/Getty Images Entertainment/Getty Images
Reactions To Alan Thicke's Death Show How Much He Was Adored
On Tuesday night, the sitcom dad of all sitcom dads, Alan Thicke, died of a heart attack while playing hockey with his son. Reactions to Alan Thicke's death on social media immediately began pouring in, with most of them centered around how totally unexpected his death was. The actor, who famously played Jason Seaver on Growing Pains had just recently made a small-screen comeback with a guest role on Netflix's Fuller House, was clearly beloved by many.
Thicke, 69 years old, was playing hockey with his 19-year-old son Carter when he suffered a heart attack. Thicke was reportedly transferred to Providence St. Joseph's Medical Center in California, where he later died. Romper has reached out to Thicke's representation for comment.
ABC's Good Morning America tweeted that Thicke's publicist had confirmed his death. Thicke is survived by his three sons, Carter, Brennan, and pop star Robin Thicke, along with his wife Tanya Callau, whom he married in 2005.
Thicke is best known for his role as Jason Seaver in the show Growing Pains, where he was the fun-loving father of Mike, played by Kirk Cameron. Although he was best known for that role, he had a loving fan base spanning all ages, as he made appearances on the small screen with guest roles on NBC's This Is Us, Netflix's Fuller House and a slew of other cameos on network TV.
Fans were shocked to learn of his sudden death.
Thicke, who was Canadian, wasn't opposed to making fun of himself. He famously had a guest role on How I Met Your Mother, which revolved around him joking about his Canadian-ness.
Some on Twitter joked about his appearance on the hit show, which he probably would have found funny:
Thicke wasn't just a lovable actor. He was a composer, too. If you love classic TV you know his work. He composed the theme songs Diff'rent Strokes, The Facts of Life, and the original theme to Wheel of Fortune, among others.
In short, he was a legend who was able laugh at himself and carry his career forward, long after he was "relevant," and often used that "sitcom dad" thing to his advantage. Just this year, in fact, he made an appearance on the second season of Fuller House on Netflix.
Which is a bit of an inside-geek joke. Thicke once played the sitcom dad to Kirk Cameron, who is Candace Cameron-Bure's IRL brother. On the Netflix revival, he takes DJ (played by Cameron-Bure) out on a date. That was the kind of actor that Thicke was — he knew we were all guiltily watching '80s sitcom reruns and secretly excited when he showed up.
Alan Thicke will surely be missed.