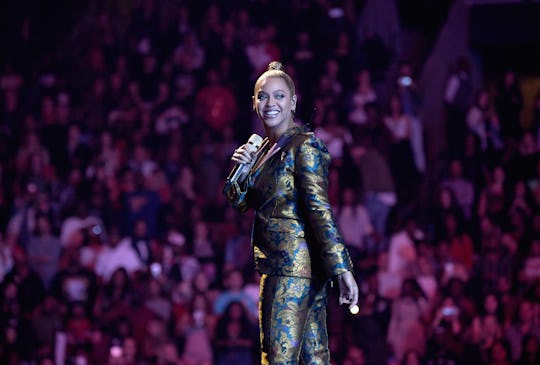 Larry Busacca/Getty Images Entertainment/Getty Images
The World's Reaction To Bey's Baby Announcement
That sound you heard today was the internet exploding as everyone's queen, Beyoncé, took to her Instagram to announce that she and hubby Jay-Z are expecting another baby — times two. The reactions to Beyoncé's baby announcement began pouring in from all over the world and, you know what, I'm not sure even I know how to deal right now.
It just makes sense, doesn't it? Beyoncé isn't known for taking half measures with anything, so hearing that's she having twins really shouldn't be too surprising. The icon has been taking up her space since she first came on the music scene as the lead singer of Destiny's Child, but this past year has elevated her to an even higher queen status. Her album Lemonade, released last year, is a total power anthem that The New Yorker described as Beyoncé's "personal journey" with a lot of political undertones. It was raw. It was real. And it took Beyoncé from signing about being bootylicious to no longer worrying about popularity as she formed who she was — a badass who makes no apologies.
That strong woman is also a mother and, according to Mic, has said that her daughter, Blue Ivy, is her biggest accomplishment. Family is important to Queen Bey, so as fans heard the news that their hero was pregnant again, this time with twins, they exploded. She is the ultimate "you can have it all" woman. That phrase about having the same hours in a day as Beyoncè? It makes her pregnancy announcement even more exciting. If Beyoncè can grow her family and still smash the patriarchy and stand proud for herself and others, so can we all.
And some fans were just stoked to know that there's going to be more tiny Jay Z and Bey combinations out in the world.