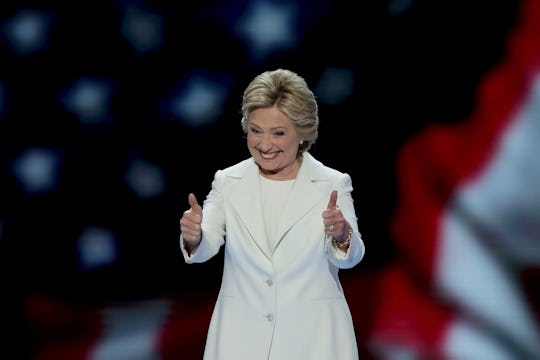 Alex Wong/Getty Images News/Getty Images
Reactions To Hillary Clinton's Democratic National Convention Speech Were Truly Powerful
On the final night of the Democratic National Convention, Hillary Clinton took the stage in Philadelphia to formally accept her party's nomination for President of the United States. After days of rousing and riveting speeches, the former secretary of state was introduced by her daughter, Chelsea Clinton, and spoke on Thursday's theme of "Stronger Together," concluding the convention as the first ever female presidential nominee for a major party. Hillary Clinton's Democratic National Convention speech marked a truly historic moment in American politics and focused on how the United States is strongest when Americans work as a team to solve our nation's problems.
Last week, voters heard from the Republicans on how to "Make America Great Again" by painting a dark and terrifying image of a world that only Donald Trump could fix for Americans. And even though Clinton fell behind in opinion polls after the Republican convention in Cleveland, her long-awaited speech on Thursday gave voters another and very different view of how things could be if she were to take office. According to The Guardian, Clinton's campaign manager Robby Mook told reporters on Thursday before Clinton took the stage that her speech would talk about "how this election is really a moment of reckoning for the voter."
The former first lady's remarkable DNC speech posed a truly compelling decision for voters to make this November and these reactions on Twitter prove that viewers at home, those in the audience, as well as both women and men were visibly impacted by this memorable moment:
Clinton's remarks followed a stirring speech by current and soon-to-be former President Barack Obama, which instantly garnered an immense reaction on Twitter, giving him lots of love for his political legacy and has been hailed as one of his best speeches ever. After Obama brought down the house with his passionate speech, Clinton joined him onstage in a surprise appearance. They hugged, it was beautiful, and everyone felt the love.
"I can say with confidence there has never been a man or a woman — not me, not Bill, nobody — more qualified than Hillary Clinton to serve as president of the United States," Obama said at the DNC on Wednesday night.
Obama continued:
You know, nothing truly prepares you for the demands of the Oval Office. Until you've sat at that desk, you don't know what it's like to manage a global crisis or send young people to war. But Hillary's been in the room; she's been part of those decisions. She knows what's at stake in the decisions our government makes for the working family, the senior citizen, the small business owner, the soldier, and the veteran. Even in the middle of crisis, she listens to people, and keeps her cool, and treats everybody with respect. And no matter how daunting the odds; no matter how much people try to knock her down, she never, ever quits.
While Clinton's long political career has surely had some bumps in the road and has drawn in its fair share of criticism, her speech on Thursday night backed Obama's claims. She hasn't quit yet and it's very clear she has no plans to do so any time soon.