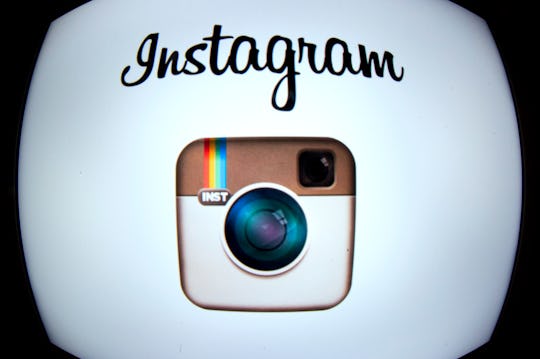 LIONEL BONAVENTURE/AFP/Getty Images
Reactions To Instagram's New Logo Have Been Swift & Harsh
Instagram has certainly been making waves recently, and not everyone has been a fan. After rolling out its news feed changes — instead of posting chronologically in your news feed, your posts will be prioritized based on your "liking" preferences — Instagram announced a big change to its logo on Wednesday. And if reactions to Instagram's new logo on Twitter are anything to go by, the change hasn't exactly been a roaring success.
The old blue logo has been replaced by a bright, colorful, flat-designed logo. The Instagram backgrounds will now be entirely black and white as well, which might take some getting used to. The old logo was a cheeky reference to retro Polaroid cameras, while apparently, this rainbow-themed new logo was created in the spirit of being inclusive to Instagram's diverse community (which is pretty darn cool). The updated logo will be applied to all Instagram apps including the Hyperlapse, Boomerang, and Layout apps. Instagram was purchased by Facebook back in 2012 for $1 billion (do you hear Dr. Evil when you read that? Because I do.) and the redesigned logo will differentiate from the traditional blue logo of Facebook. Now, as we all know, the Internet does not generally take to these sorts of changes all that well. But maybe this time will be different, right? Maybe the Internet will embrace the new logo, appreciate Instagram's well-meant plan to stand up for diversity and inclusivity.
Or not.
Admittedly, the initial reaction is always the strongest. When Instagram rolled out its news feed changes last week, the decision to change from listing photos chronologically to prioritized posts was met with some pretty harsh criticism as well. Users not only found the new algorithm difficult to navigate, some also were feeling put out by the concept of Instagram fiddling around with users' personal information to figure out their preferences.
And what do the Instagram folks have to say about the changes? According to the Instagram blog, the changes are meant to make scrolling through your posts easier.
You may be surprised to learn that people miss on average 70 percent of their feeds. As Instagram has grown, it's become harder to keep up with all the photos and videos people share. This means you often don't see the posts you might care about the most.
Some users are warming to the changes.
So, too, it will hopefully be with the new Instagram logo. A spokesperson for the company explained why it changed the logo: "We've been inspired by all the ways the community has grown and changed, and we wanted to create something that reflects how vibrant and diverse storytelling on Instagram has become." Which makes sense. The 5-year-old company that started out as a photo sharing site with cool retro filters has become a social media giant, with 400 million followers. So maybe let's give it a break if it wants to celebrate its success with a little update, right?
Change is good, I think. And I think, in the end, we'll all survive.